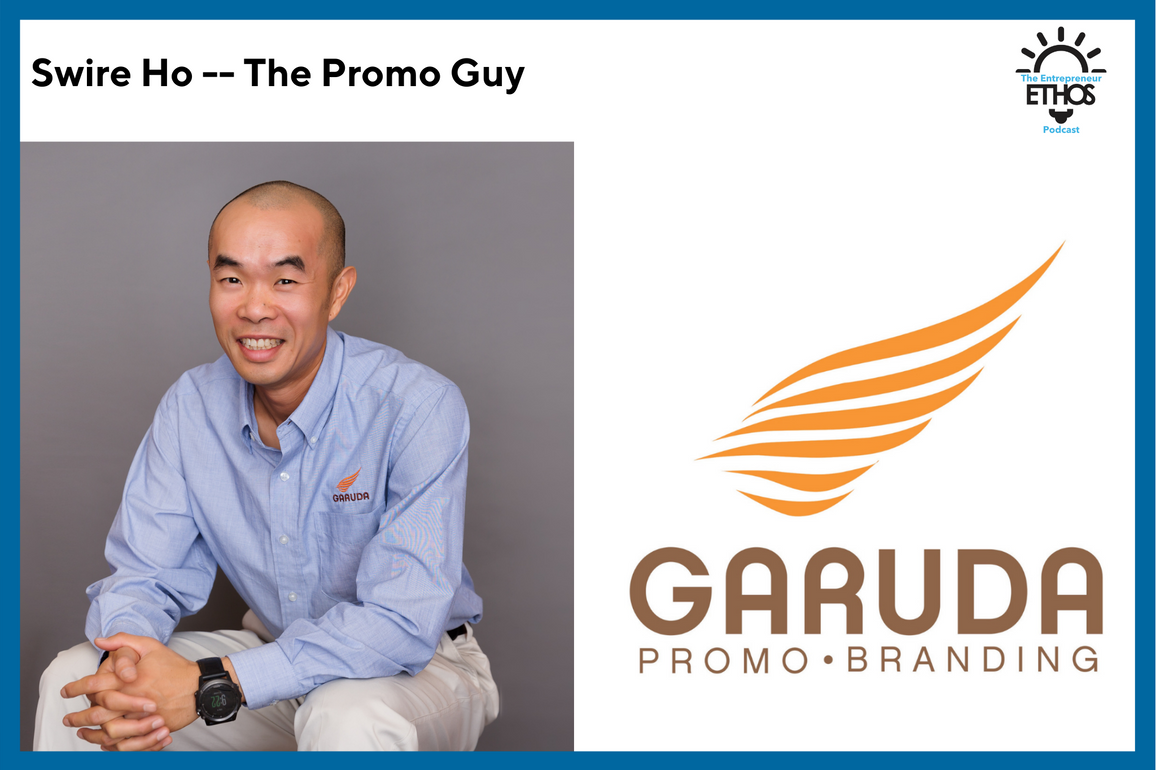 The Promo Guy: Marketing and Merchandise with Swire Ho of Garuda Promo and Branding
Subscribe: Apple Podcasts | Spotify | Stitcher | Overcast
Support the Show. Get the NEW AudioBook!
AudioBook: Audible| Kobo| Authors Direct | Google Play | Apple
Summary
Hey everyone. I wanted to quickly let you know about the release of the audio version of my book, The Entrepreneur Ethos, narrated by David A. Conatser. If you want to support the show, you can buy it wherever audiobooks are sold. Links are also in the show notes.
Now on to my guest today, Swire Ho, cofounder of Garuda Promo and Branding Solutions, a promotional merchandise company.
With a name that many people don't remember, Swire calls himself "the promo guy." He and his wife had another business they sold in order to open this one, which focuses on providing branded merchandise. When covid hit, Swire worried about what would happen. But he did as many others did: he pivoted.
First he started sourcing face masks and then started selling the idea of dropshipping kits for virtual events. The idea came from watching his kids in virtual school, where they were given breaks to do activities and play games.
As the director of sales and marketing, Swire credits his love of talking to others for his success. He has realized that connecting with the gatekeepers in companies, such as the secretaries and assistants, have been the secret to networking. He makes himself available, asks them what they need, and follows up to make sure they are happy with the service.
Now let's get better together.
Actions to Try or Advice to Take
The key to good networking is knowing your buyer. In Ho's case, he knows that while they may not be the actual decision-makers, the gatekeepers are the ones to connect with to offer his services.
Similarly, if you're ordering branded merchandise, consider the audience and what they might do with it. Ho tells the story of a company that offered bottles in exchange for people at a marathon event who succeeded at doing a number of pull-ups. The "winners" promoted the brand by taking pictures of themselves with the bottles.
Follow up to make sure your customer is happy, and don't be shy about asking for referrals and offering to help others with similar needs.
Links to Explore Further
Keep In Touch
Book or Blog or Twitter or LinkedIn or JSYPR or Story Funnel