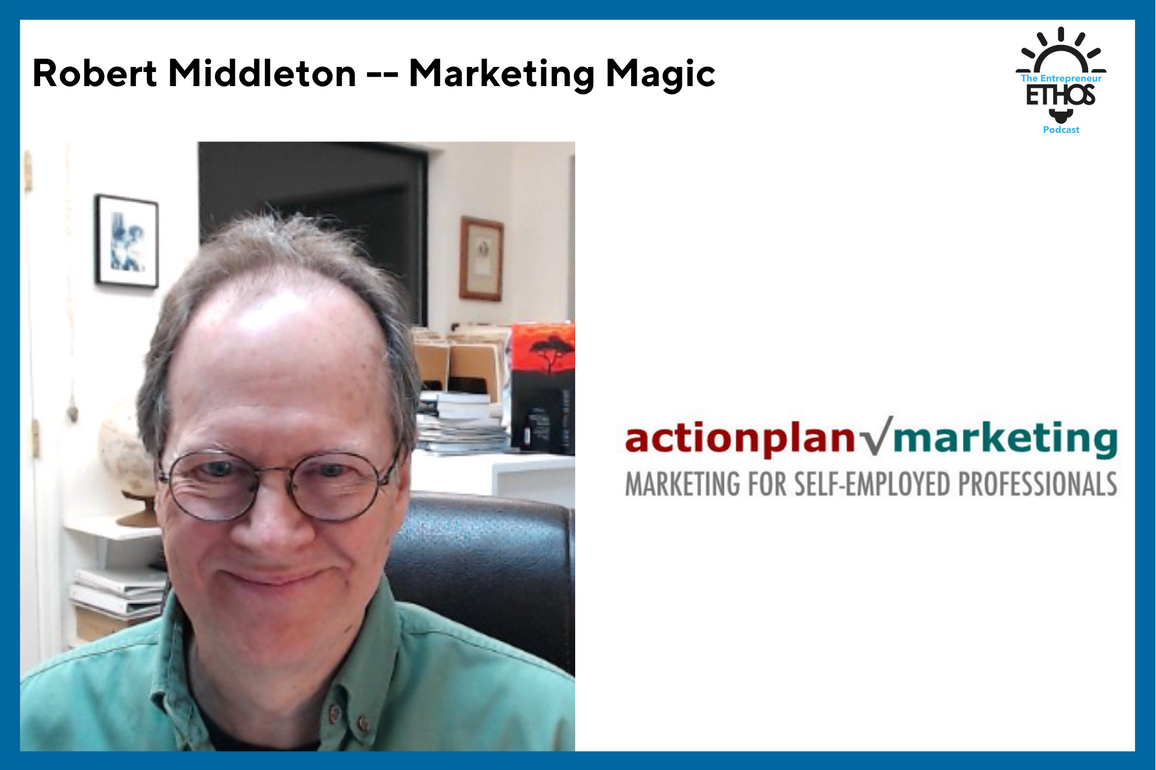 Marketing Magic: Robert Middleton's Secrets to Success in 13 simple steps
Subscribe: Apple Podcasts | Spotify | Stitcher | Overcast
Support the Show. Get the NEW AudioBook!
AudioBook: Audible| Kobo| Authors Direct | Google Play | Apple
Summary
Hey everyone. I wanted to quickly jump in and thank all of you for listening to the show -- especially those that gave me a rating and review on Apple Podcasts. So thanks Year of the Harris, mngrwl, and Roy Harmon for the reviews. It means a lot to me that you'd take the time to leave a review. If you like the show, I'd appreciate it if you would leave a review.
Now on to my guest for today, Robert Middleton of Action Plan Marketing.
Robert has 35 years of experience in marketing. And he learned it all old-school - through reading books and applying what he learned. He started out offering seminars in time management and working as a business consultant. When he realized most businesses wanted help with their marketing, he made that his focus.
Robert has rolled with the times, moving from in-person networking and seminars to selling his services through the internet back before most businesses were still trying to figure out how to put a website together. He's been writing and sending out a weekly newsletter, The Fearless Marketer, for over 20 years and now focuses on offering group coaching and training to self-employed B2B professionals. You'll want to hear how he's developed his offerings to successfully enroll clients into his program at rates of nearly 90 percent using 13 essential questions all prospective clients have.
Now, let's get better together.
Actions to Try or Advice to Take
Be responsive to market changes. One of Middleton's secrets to success is that he doesn't stick to any one way. When one strategy no longer works, he moves to the next one that does. Always be learning and strategizing.
Create a presentation as a marketing tool. You don't have to make it fancy, but make sure to practice, practice, practice! Middleton offers a free template at his website.
Learn how to ask for something from your audience that prompts them to take action. Middleton gives an example of how he ensures that people at his seminars would hand in their business cards easily and effortlessly.
Links to Explore Further
Keep In Touch