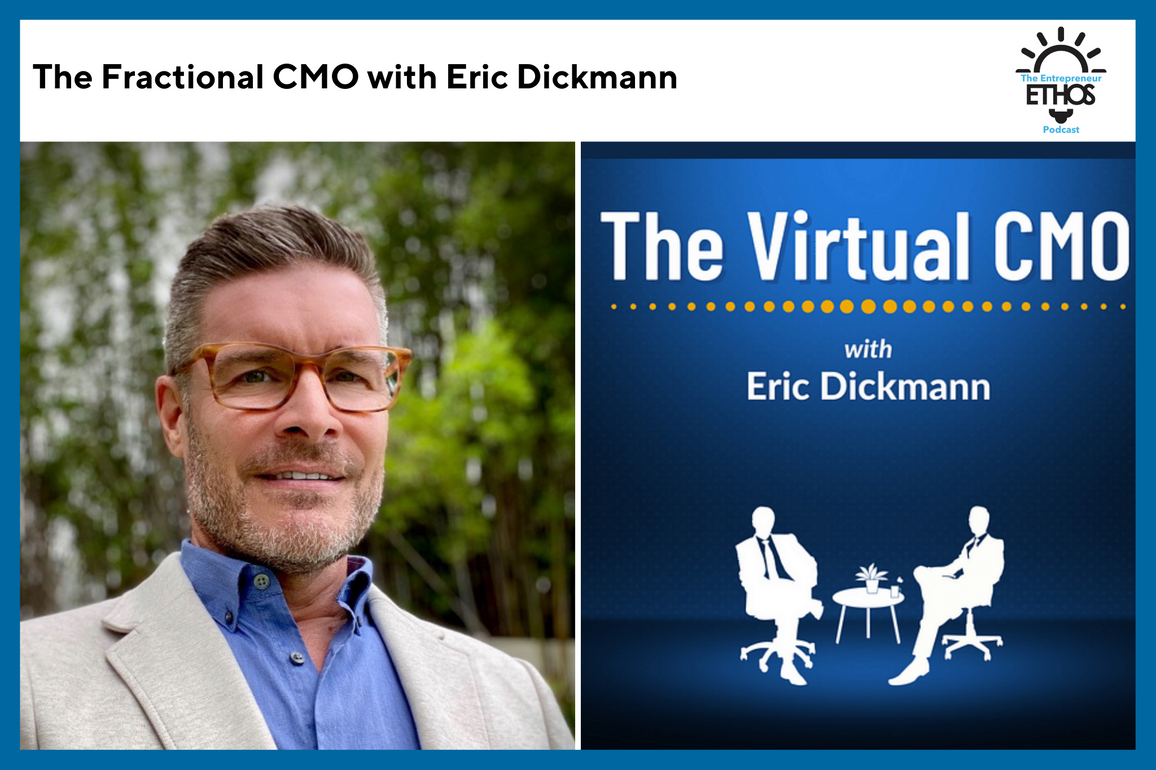 The Fractional CMO with Eric Dickmann
Subscribe: Apple Podcasts | Spotify | Stitcher | Overcast

Support the Show. Get the NEW AudioBook!

AudioBook: Audible| Kobo| Authors Direct | Google Play | Apple
Summary
Hey everyone. Stay tuned to the end of the interview where I'll give you some actionable insights that I learned from my guest. These insights are also in the show notes. As always, thanks for listening.

Now on to my guest for today, Eric Dickmann, founder of The Five Echelon Group, which helps small and medium-sized businesses create and implement marketing strategies. He also hosts The Virtual CMO Podcast and a YouTube show on work-life balance.

Eric climbed the ladder of the corporate world, becoming senior marketing director for Oracle. While it was a great experience, after over 30 years in the corporate world he became disenchanted with the values he saw driving big companies. He resolved to instead go out on his own and help smaller companies grow and scale. Eric now offers his expertise as a "fractional chief marketing officer," working as a consultant to help companies with their marketing strategy. Eric explains that businesses that don't think marketing is worth the investment have often lacked a coherent strategy and are usually just employing tactics, so an overall vision for a company's marketing can be vital - and yet many companies don't have one senior person just for marketing. His fractional/virtual CMO service is a way to fill this gap.

We've talked before on the show about the importance of marketing, of telling a good story, and of finding the right product-market fit. Eric adds some important insights for both new founders and business owners looking to scale, including why it's important to have a strategy and not just tactics; why consistency is key; and why some testing and experimentation at the beginning is vital.

Now, let's get better together.
Actionable Insights
Hone your elevator pitch. Be ready and able to clearly and concisely tell someone what you do and/or sell. Eric suggests pitching to a family member and then testing them a few days later by asking them to tell you what you do.
Build a good network - the sooner, the better. Create a good network of people you can turn to for advice, referrals, and support. All successful businesses are built on strong networks.
Allocate part of your budget to marketing as early as possible so you can start testing out your product and figuring out your market. Sometimes businesses discover their market is not who they originally thought, so be ready to pivot when the data steers you in a different direction.
Links to Explore Further
Keep In Touch