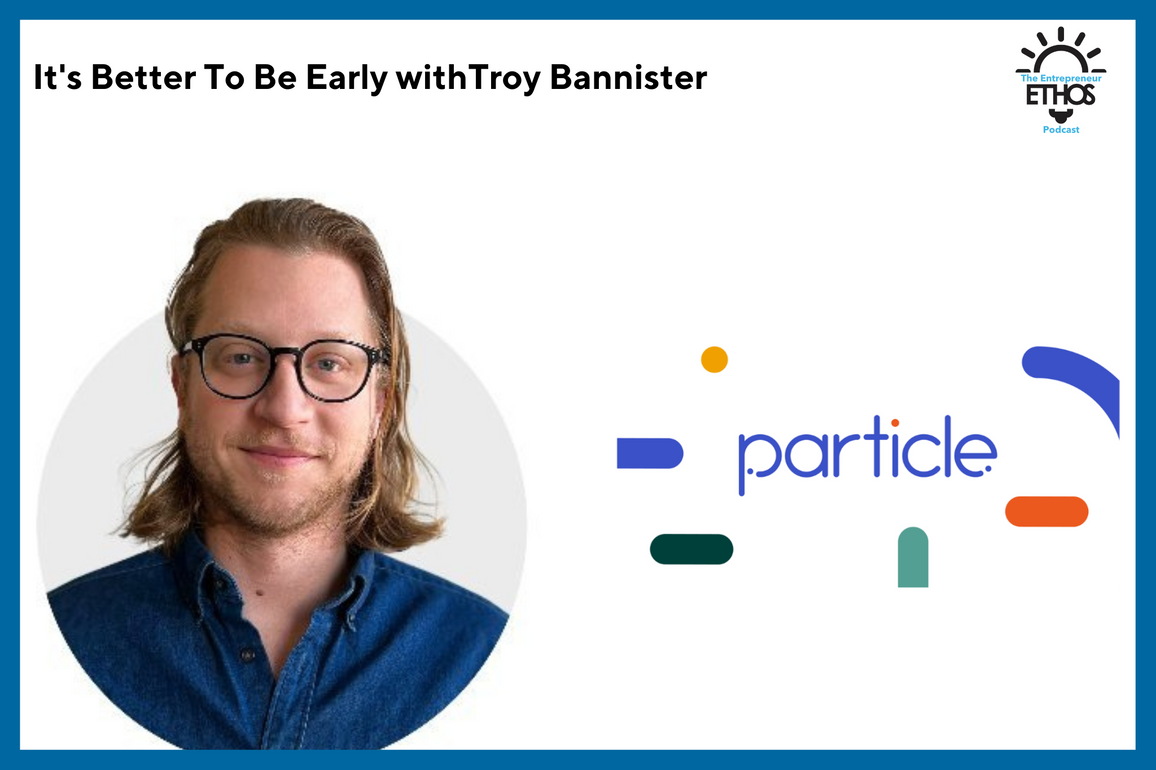 It's Better To Be Early with Troy Bannister of Particle Health
Subscribe: Apple Podcasts | Spotify | Stitcher | Overcast
Support the Show. Get the AudioBook!
AudioBook: Audible| Kobo| Authors Direct | Google Play | Apple
Summary
Hey everyone. Stay tuned to the end of the interview where I'll give you some actionable insights that I learned from my guest. These insights are also in the show notes. As always, thanks for listening.
Now on to my guest for today, Troy Bannister, founder of Particle Health, an API platform that collects and integrates health data.
Troy's interest in entrepreneurship was sparked when he was growing up on an island near Seattle, where he made money cleaning boats. He saw firsthand the opportunity entrepreneurship provided, with income possibilities and time flexibility, as opposed to most other jobs his friends had. His interest in medicine led him to first becoming an EMT in college, where, he says, he learned a lot. He went to medical school but dropped out, leaving with a master's degree. He moved to New York City, where he did research at hospitals, then moved to working with a venture capital firm that focused on health care companies. Troy started to ask questions about the use of data in the healthcare industry, where fax machines are still used to share patient files. Using Stripe, Plaid, and Twilio as models, he founded Particle Health four and a half years ago.
Troy's timing for founding Particle Health was strategic. He knew that health care was in need of better data access for providers as well as consumers, and that legislation was passing to make this more of a possibility. While companies are supposed to share data when it is legally requested, they often don't. New legislation now mandates fines for companies who don't comply. Much of the future success of Particle Health will rest on how the legislation will be enforced and how companies choose to comply.
Meanwhile, Troy and Particle Health are offering data integration solutions to health care companies that understand the importance of being able to collect patient data in order to better serve them. Eventually, Troy sees Particle Health also offering consumers the opportunity to collect and keep their data in ways where it can be used more effectively, in order to give them more choice and power in their own health care.
Now, let's get better together.
Actionable Insights
Troy says when he saw the legislation coming through, he knew he had to act. "It's better to be early than late," he says.
Troy discusses the importance of aligning incentives. He doesn't think it will be the fines so much that will change institutional behavior, but the fear of looking bad. The legislation, he believes, will go a long way to incentivizing hospitals to share data. Consumers are starting to want more flexibility, and being able to easily access their data from various providers will enable more freedom of choice.
Learn the various sides of the industry. Though his experiences in working in the medical field, then in working with startups in the venture capital firm, Troy has fairly quickly gained significant insight into being an entrepreneur in this industry.
Links to Explore Further
Keep In Touch