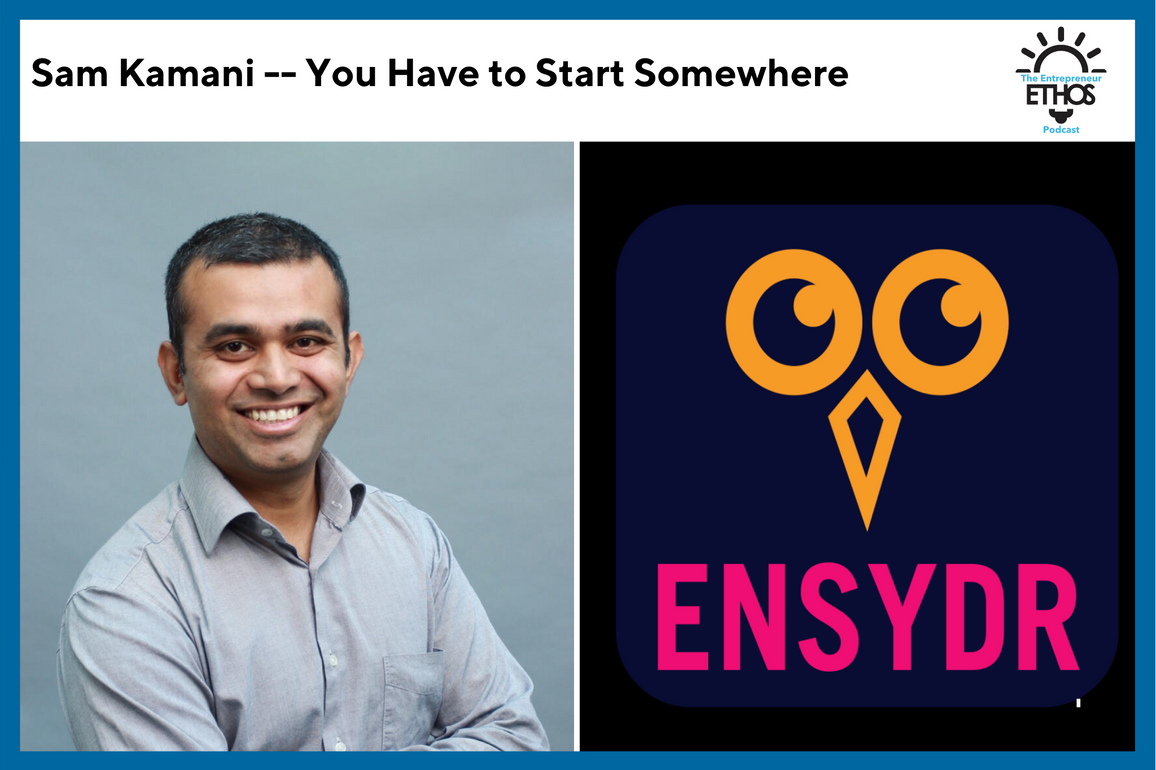 You Have to Start Somewhere. Lessons in entrepreneurship from Sam Kamani.
Subscribe: Apple Podcasts | Spotify | Stitcher | Overcast
Support the Show. Get the NEW AudioBook!
AudioBook: Audible| Kobo| Authors Direct | Google Play | Apple
Summary
Hey everyone. I wanted to quickly let you know about the release of the audio version of my book, The Entrepreneur Ethos, narrated by David A. Conatser. If you want to support the show, you can buy it wherever audiobooks are sold. Links are also in the show notes.
Now on to my guest for today, Sam Kamani, tech innovator, CEO of ProductDone and most recently the co-founder of Ensydr, an app that helps people in learning about investing without risk.
Sam grew up in India and moved to New Zealand to attend college. After college, he made himself useful by offering to help businesses wanting to do e-commerce when only 1% of businesses were doing online sales. He quickly made a name for himself as the go-to person to help businesses gain traction online.
From there he started several businesses, first selling supplements online and then turning his attention to digital products. His company ProductDone helps entrepreneurs identify and build a marketable product in the SAS and mobile app spaces. In addition to running his companies, Sam has authored two business books and also hosts the podcast Want Money Got Money.
Sam's advice for entrepreneurs is to start small and to build a minimum value product first. Finding your buyers before building to scale is key. He also believes playing the long game and getting people engaged and interested in your product is more important than making the quick sale.
Now let's get better together.
Actions to Try or Advice to Take
"You have to start somewhere," Kamani says. "Give yourself permission to fail." Starting small and testing market demand will ensure you can do so with less risk.
When Kamani decided he'd stop worrying about what people thought and gave himself permission to engage on social media, he exponentially increased his personal brand.
You're only limited by what you think you can't do. Become aware of your passions and what you have to offer, and follow that path. Kamani says one of the most important lessons he's learned is that "you must be what you can be."
Links to Explore Further
Keep In Touch
Book or Blog or Twitter or LinkedIn or JSYPR or Story Funnel