Part 5: Supply Chain Woes + War Spikes Inflation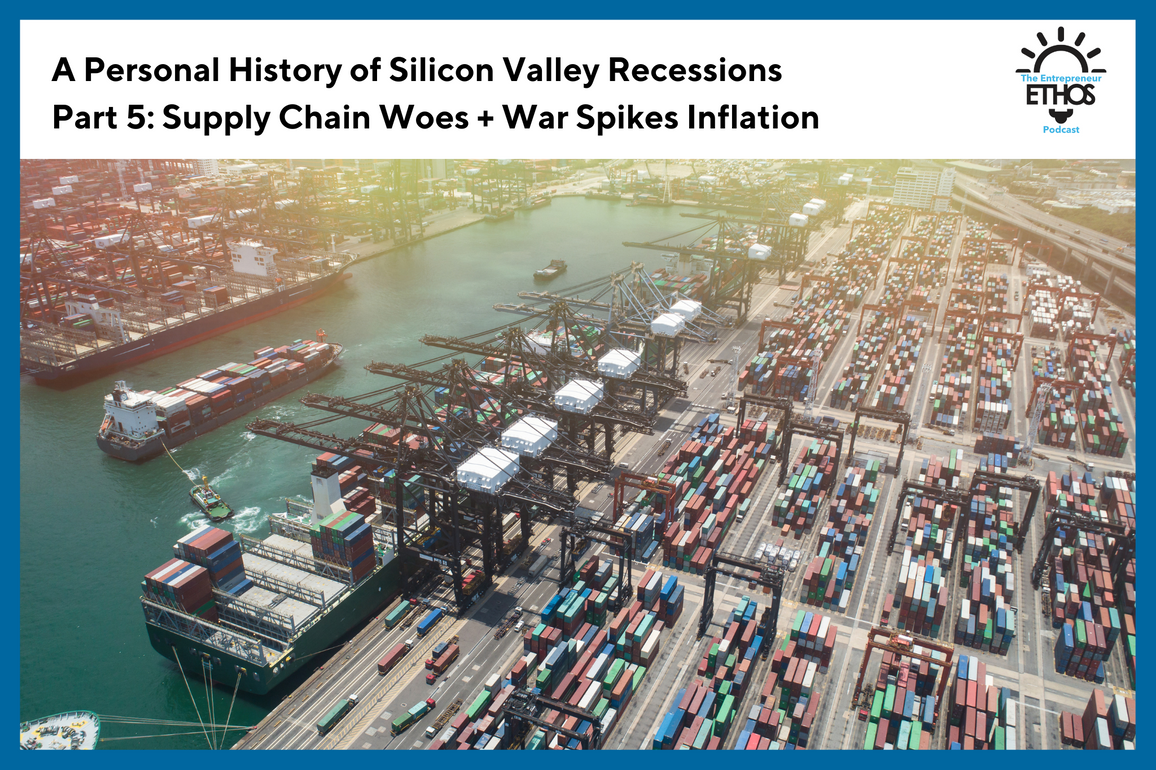 A Personal History of Silicon Valley Recessions Part 5: Supply Chain Woes + War Spikes Inflation
Hello everyone and welcome back to a miniseries I'm doing called A Personal History of Silicon Valley Recessions.
This is a five part series of what it was like to go through two (and now starting three) recessions in Silicon Valley.
This is part five titled Supply Chain Woes + War Spikes Inflation.
If you're just turning in, I'd highly recommend listening to the first four episodes to get a sense of what I'm talking about.
I'm no Nostradamus or anything like that but I must say, I saw this recession coming.
One of the reasons I saw it coming was that I had a PR & Marketing company that focused on startups, nonprofits, and professional athletes.
Back in September of 2021 something happened — I lost a few clients.
Now this happens often in my business so I did not give it much thought.
The challenge I was facing was replacing them.
Usually it takes anywhere from one to three months to replace a client, especially since startups were flush with money.
As the months dragged on, things were not closing but not in the normal way.
Organizations were being a lot more careful and while they were struggling to hire internally, were hesitant to start spending money.
It took me the better part of six months to get one new client and the prospects for others had dried up.
So I had a dilemma.
On the one hand, running your own business offers a degree of freedom that's hard to match. I value freedom. That's the reason I have spent most of my career as an entrepreneur.
On the other hand, the world was changing quickly. Most of the reason the deals died was because they wanted to consolidate vendors and give a bigger piece of work to only a few firms.
Since I ran a small firm, it was hard for me to say that we could handle that.
Couple that with startups, especially seed stage, not getting as much funding, and it was looking dire.
Well, not exactly dire but a struggle that might not be worth the fight.
I should probably preface this a bit by saying that I never wanted to run the PR & Marketing firm I was running.
It had been my late wife Jane's baby and I took it over after she got sick and ran it after she died.
It had been 5.5 years since she died and maybe the combination of not really wanting to run it coupled with the current economic environment conspired against me.
I'm sure it did and I think that's part of the lesson to learn during hard times – if you don't want it. I mean really, really want it, tough times will conspire against you.
It's the reason I evenly made the decision to shut it down and get a job at a larger firm.
Putting all that aside for now, what was going on at the start of 2022 was not great but certainly not a disaster, as the economy goes.
The Pandemic restrictions were mostly easing and inflation was stable.
Pretty much all of that changed when Russia invaded Ukraine in February.
This is a classic example of the straw that broke the camel's back metaphor.
It's not like things were super great or anything like that but it felt like the world was holding on by a thread due to all these crazy Supply Chain issues, especially with the lockdowns in China.
Once Russia invaded Ukraine, the preverbal dam broke and all the underlying challenges the world faced all of a sudden became uncloaked or rather amplified to a degree that folks panicked.
As we have seen since February of 2022, inflation has skyrocketed and interest rates are on the rise.
Unemployment has been relatively low but will increase soon due to all the announced layoffs and rising interest rates cooling down the economy.
I won't even go into the crypto market implosion, which was fueled by alleged FTX fraud and the overall selloff of crypto assets, which funny enough was not supposed to be correlated to the overall economy.
Guess we learned our lessons on that.
So now it's January 2023 as I write this while on vacation. What's going to happen?
Again, I'm no Nostradamus but while history might not repeat itself but it certainly rhymes.
More companies are going to do layoffs. Even the ones that have healthy balance sheets. If you get laid off, try not to take it personal. Tune up the resume. Acquire some new skills. Build your network.
It will be harder to find work and it might not be a perfect fit but try and find a place to land to ride out the storm.
Figure out a side hustle to earn some extra money. Preferably something you can do online. I have a feeling that point projects or one off projects companies will outsource since there are some things that you still need to do even in a recession.
If you're able, build up during these bad times. A ton of great companies have been built during bad times. You'll have to be scrappy but this is the crucible in which you find yourself in.
Save as much cash as you can. Have at least 6 months of expenses on hand if possible. More if you can. Cut back on things but don't be too extreme. Austerity is fine but also have some fun too.
Don't get discouraged by all the "bad" news. I'd say ignore most of the news since it's meant to spin you up.
Rather, look for the good and beautiful in the world. I know, it seems a bit woo woo but your mental health is going to be tested during bad times so find the time to enjoy the little things.
Thanks for listening to part five of A Personal History of Silicon Valley Recessions, Supply Chain Woes.
That does it for this miniseries. I hope you enjoyed it and learned a little bit about the history of some of the recessions I personally went through.
If you found this useful, please share it with your friends and family.
Until next time, chin up, shoulders back, and keep grinding.