Lessons Learned My First Ten Podcasts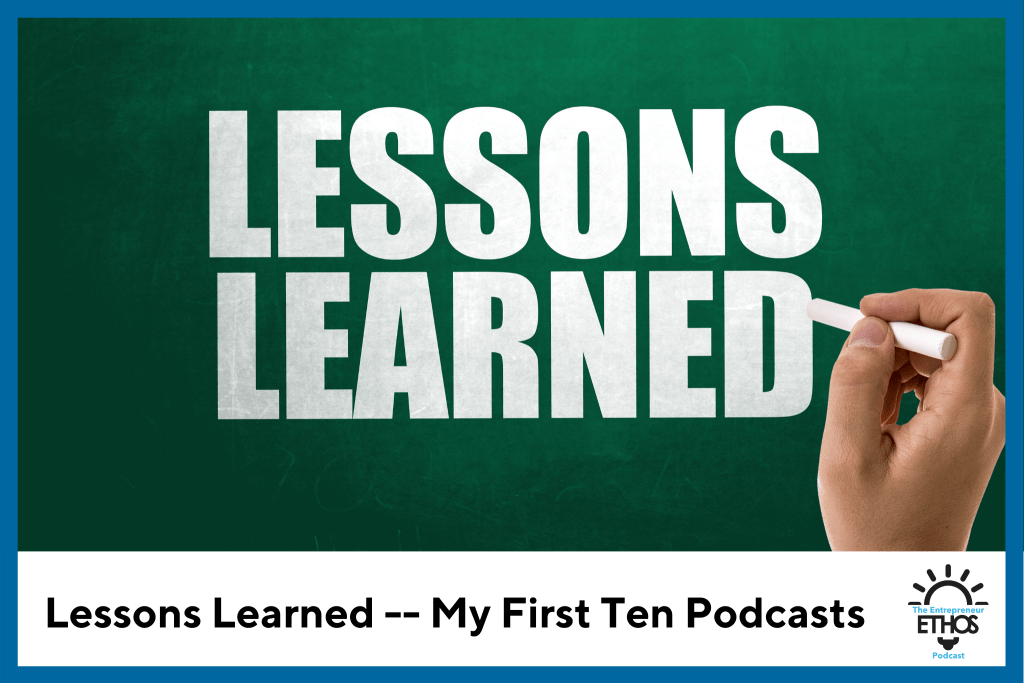 On this episode, I take a look back at the first ten episodes of the podcast and reflect on what I learned and why I decided to do a podcast in the first place. I always like to take a step back and figure out what's working, what's not, and what I plan on doing about that.
Subscribe: Apple Podcasts | Spotify | Stitcher | Overcast
Summary
On this episode, I take a look back at the first ten episodes of the podcast and reflect on what I learned and why I decided to do a podcast in the first place. I always like to take a step back and figure out what's working, what's not, and what I plan on doing about that. First up is what inspired me.
Inspiration
I really enjoy the long-form podcast medium. For me, it allows a conversation to breathe in a way that a 3 minute sound bite on a network interview show just can't do and will never do. I also appreciate the DIY nature of podcasts and how anyone can give it a shot.
Of course, there are a lot of pods that I love to listen to and those hosts have taught me a lot about life, love, technology, business, and mental models. The ones that are particularly influential are Very Bad Wizards, Sam Harris, The 21st Century Creative, My First Million, The Knowledge Project, and Story Grid.
In particular, the Story Grid podcast by Shawn Coyne and Tim Grahl would be the main catalyst that led me to where I am today. The reason being is that without finding the Story Grid, I would have never met Leslie, Kim, Valerie, and Anne, who I did my first podcast with.
The Story Grid Editor Roundtable podcast gave me a first-hand look at how hard and fun a podcast could be. The five seasons I did with them was a masterclass in not only the mechanics of how a podcast should be done but also a great life lesson in creativity and collaboration. I am deeply grateful for the time I spent with them.
If I were to pick the main inspiration for The Entrepreneur Ethos Podcast, it would be a combination of Tamler Sommers and David Pizarro's wit, humor, and intellectual banter from Very Bad Wizards and Shane Parish's relaxed and curious style from The Knowledge Project. If I can get half as good as them, I'd consider that a win.
I'm also inspired by entrepreneurs and how they have the guts to try and change the world. Nothing gives me more joy and pleasure than to talk with someone deep in the entrepreneurial trench about how they do what they do. Entrepreneurs are my ultimate inspiration.
Podcast Production
I have learned a lot about what it takes to put a podcast out in the world. I have a new appreciation for anyone who takes the effort to create something, especially a podcast. One of the first lessons I learned came from a conversation with Peter Moses, who is the Head of Content for Blue Wire Media.
This podcast is on the Blue Wire Media network since I'm one of their advisors and I figured the best way to understand how a podcasting network works, is to actually do a podcast. So thanks Kevin, Scott, and Peter for allowing me to do this experiment.
Peter gave me a lot of great advice and the one piece that stuck with me was 4 to 1.
For every hour of a finished podcast, it takes about 4 hours to produce. At first, I thought he was pulling my leg but over the last ten episodes, his estimate has been pretty darn close. The reason that's important is that it's a big commitment to do a podcast, more so than a blog, and if you want to be successful, you have to take the other bit of advice that both Peter and Kevin Jones, CEO of Blue Wire told me -- be consistent.
If you want a successful podcast, you have to deliver the goods consistently. What that means is at least a podcast a week, which so far, I have done.
One of the other things I wanted to do with the podcast was to do all the interviews in-person. That plan soon got sidetracked due to COVID-19 so I had to adjust to on-line. I do want to pick that back up once we can be less than 6 feet from each other.
In terms of workflow, I have been experimenting a bit with that. Of course, you need a high-quality microphone, I have a Blue Yeti, and services like Zoom, Zencastr, or Skype to record the interviews. What has been fascinating is the tools that Mark Struczewski turned me on too that have made the workflow a lot better and easier.
Those tools include Hindenburg and Auphonic.
Hindenburg is a desktop tool that allows you to record your microphone and the audio feed from any of the online meeting tools. I have the Pro version that allows multitrack recording. What's nice about it is that you can have a backup copy of the audio and then you can record an intro right into it.
Auphonic is an online tool that cleans up and compresses all the audio. It's a great tool that makes sure that all the levels are correct and the audio encoding is optimized.
The one thing in the workflow that I'm struggling with is background noise. I'm still trying to figure out the best setup for the home studio and the microphone gain settings, etc. I'm going to get some acoustic tiles soon and play around with position and setups. I think that will always be a work in progress so bear with me as I figure it all out.
Insights From My Guests
There were definitely themes that emerged from the conversations with the guests. It's hard to nail down the biggest single one but I'd say that routine had a big part in each of their lives. Mindfulness and a physical practice seemed to be next along with little life hacks to make decisions easier.
By far my favorite was Candice Smith and her habit of writing physical thankyou cards to people who gave their time to speak with her. The best part about that is how she'll take a picture of the card if she can't find their physical address. That is my new favorite thing.
On top of the tactical stuff, I'd say the biggest skill that all of them share was the generosity of their time. Time is something that is our most precious resource. All of us have the same amount of it and unlike money, it can't be printed nor can we earn more. So thank you Grant, Ravi, Leslie, Mark, Marvin, Anji, Khiry, Candice, and DJ for giving me the gift of your time, talents, and insights. It was a true pleasure to talk with and get to know each of you a little bit better.
Keep In Touch