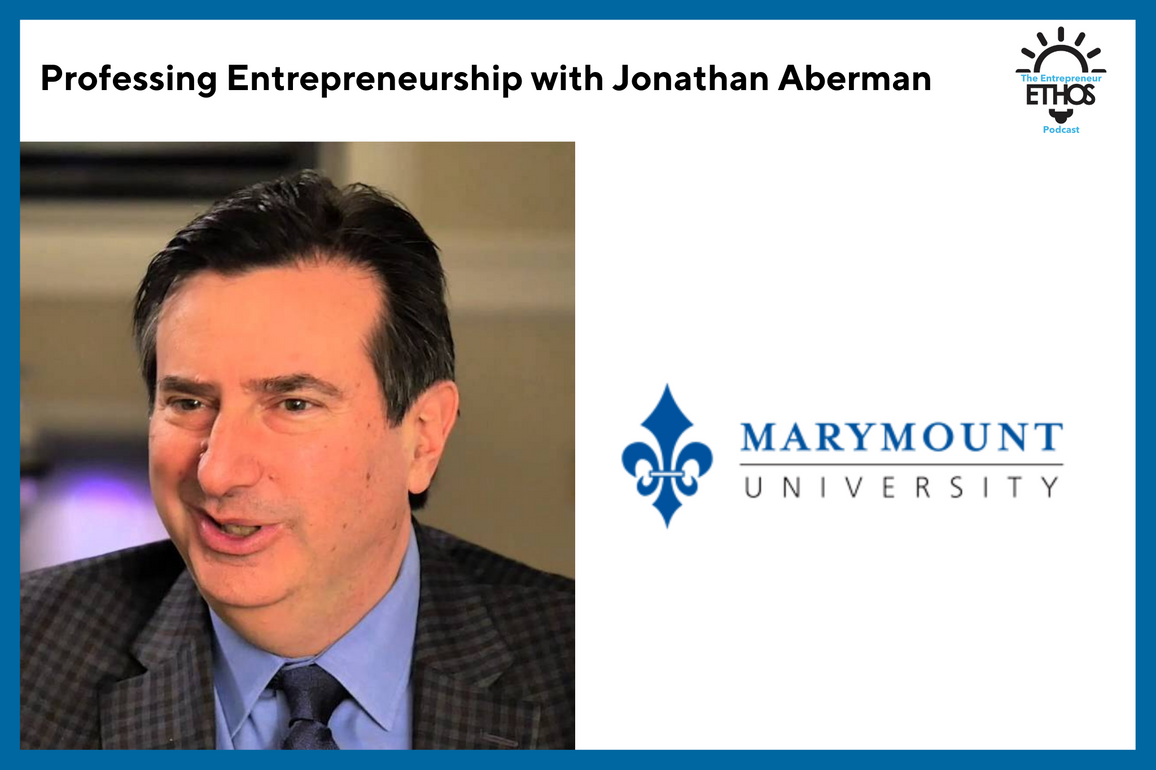 Professing Entrepreneurship with Jonathan Aberman of Marymount University
Subscribe: Apple Podcasts | Spotify | Stitcher | Overcast
Support the Show. Get the NEW AudioBook!
AudioBook: Audible| Kobo| Authors Direct | Google Play | Apple
Summary
Hey everyone. As always, stay tuned to the end of the interview where I'll give you some actionable insights that I learned from my guest. These insights are also in the show notes. As always, thanks for listening.
Now on to my guest today, Jonathan Aberman, managing director of Amplifier Advisors and dean of the College of Business, Innovation, Leadership and Technology at Marymount University in Arlington, Virginia. Jonathan also hosts the show What's Working in Washington.
Jonathan comes from a family of entrepreneurs, but his parents wanted him to go to college and join a profession - which he did. But the entrepreneurial bug caught up with him. As a lawyer he's worked with many startups and entrepreneurs and has started a venture capital fund. And now he's helping to redesign education by leading an innovative new program at Marymount University.
Jonathan has a lot of insight into the life of an entrepreneur and what qualities entrepreneurs can offer larger companies. Entrepreneurs need to be motivated by more than just money; most entrepreneurs have a strong belief that they can make a difference. Entrepreneurs can, contrary to what many people believe, work in larger structures, as long as they are treated with respect and are appreciated for what they have to offer. In fact, entrepreneurs as leaders can be really good "culture creators" for a business, especially if they employ a servant-leader model. As dean of the School of Business, Innovation, Leadership and Technology at Marymount, Jonathan is also aware that companies are not so much interested in a graduate's degree as their skills. And with the increasing automation of tools, creativity is going to play a bigger role than ever in both an individuals and a company's success.
Now let's get better together.
Actionable Insights
Be coachable. Whether you're just starting out or at a point where you're ready to scale, being able and willing to listen to the advice of mentors and advisors can make a difference in your success.
Assemble your team as you would a music group. You need to share a vision and purpose, but everyone should offer something different. Empathy and respect for each other are critical for effective teamwork.
Know that entrepreneurship is a messy journey with a lot of curves, so be willing to adapt and enjoy the ride.
Links to Explore Further

Keep In Touch
Book or Blog or Twitter or LinkedIn or JSYPR or Story Funnel