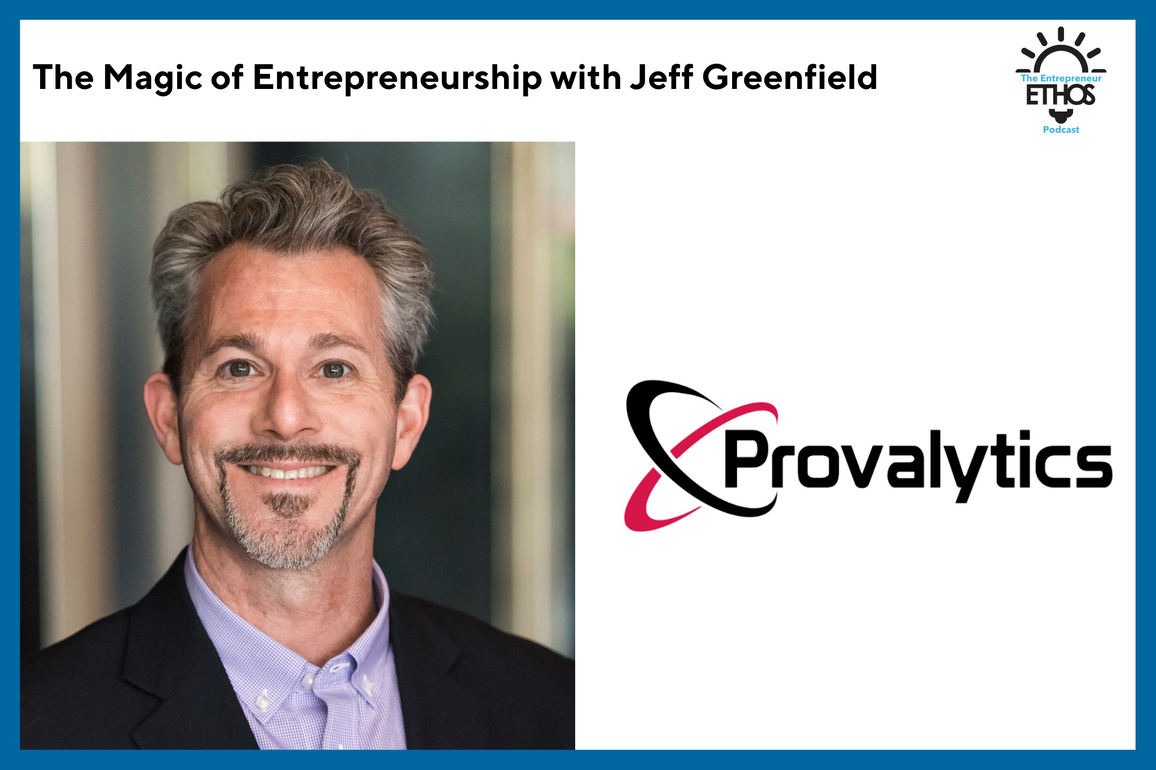 The Magic of Entrepreneurship with Jeff Greenfield
Subscribe: Apple Podcasts | Spotify | Stitcher | Overcast
Support the Show. Get the AudioBook!
AudioBook: Audible| Kobo| Authors Direct | Google Play | Apple
Summary
Hey everyone. Stay tuned to the end of the interview where I'll give you some actionable insights that I learned from my guest. These insights are also in the show notes. As always, thanks for listening.
Now on to my guest for today, Jeff Greenfield, a serial entrepreneur who has worked as a magician, chiropractor, and product placement guru, among other roles. His current venture is Provalytics.
Jeff started out wanting to be a magician when he saw one perform at Disney World when he was just five years old. And that's what he did, putting on shows while he was still in grade school.
He went to college for biochemistry and while he considered trying to be a magician professionally, instead he became a chiropractor. He had a thriving practice until an injury forced him to find another career. This gave him the opportunity to dive into professionally performing as a magician, getting gigs on college campuses.
At the time, the internet was in its infancy, but he realized the importance of having a website in order to market himself. After trying to hire someone to build one who failed to do so, he figured out how to do it himself in a weekend. Before he knew it, he was being hired to build websites for other businesses. The next step was to figure out how to get businesses on the web to rank higher, which led him to develop an understanding of how SEO works. He worked with a developer to create an automated SEO platform.
Though he'd found success and was having fun, Jeff wasn't content to stay where was. He worked in product placement and branding, but soon his projects led him to ask how to better measure the efficacy of the marketing he was doing. The result was C3 Metrics, a platform that's worked with companies like JP Morgan, Hertz and Nestle.
Jeff next tried joining a company's management team, but while he learned a lot, it didn't suit him. He realized that new challenges in the area of marketing measurement brought about by new regulations was an untapped opportunity. So Jeff founded Provalytics to help companies find new ways to approach marketing analytics without the benefit of cookies and other tracking tools.
Now, let's get better together.
Actionable Insights
While he earned an advanced degree to become a health professional, Jeff  clearly has not let anything stop him from learning the information and tools he found he needed. By jumping in and learning new technology, he made himself invaluable to others while being at the forefront of innovation.
Jeff sees opportunity where others might see difficulties. Rather than lamenting his injury, he built a business instead. When that wasn't satisfying, he pursued his passion in magic. More recently, seeing what was happening with marketing metrics, he jumped in to help figure out how to respond.
Jeff has many accomplishments, but it's clear he values family time. He spoke of wanting to be with his wife and daughter, and making choices so that he could do so. He found ways to build the kind of life he wanted, even when unexpected events forced him to jump tracks.

Links to Explore Further
Keep In Touch