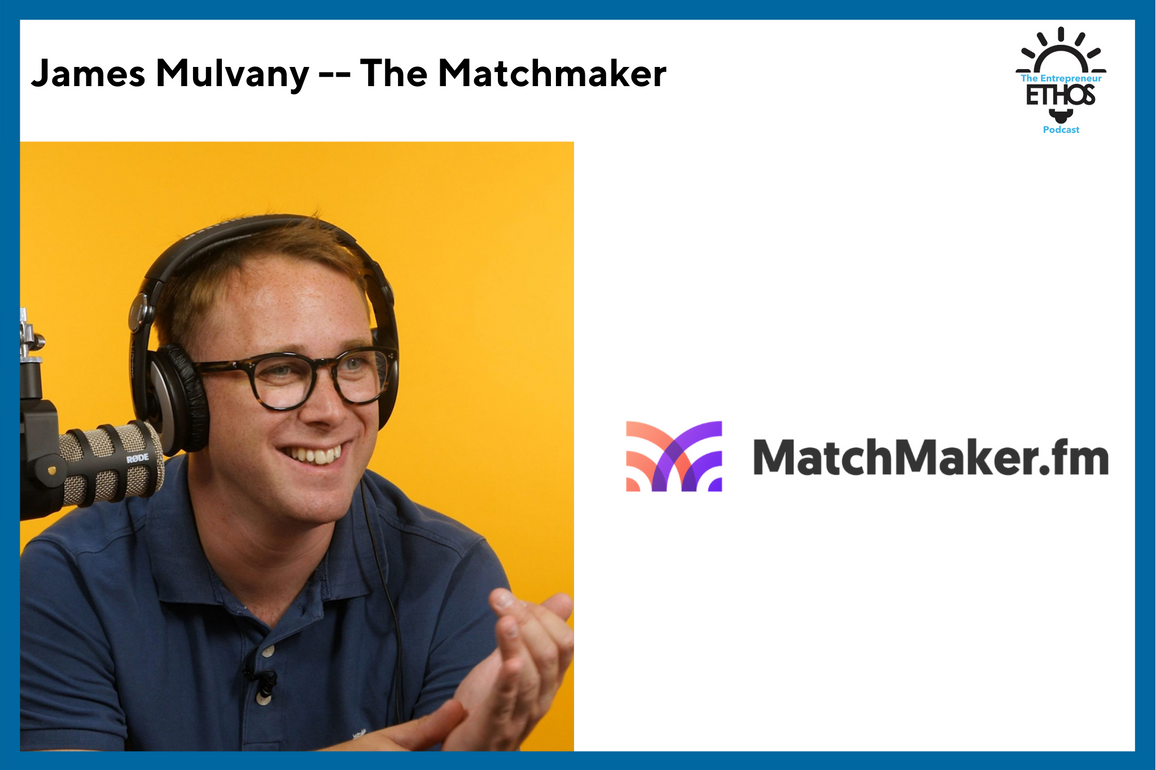 The Matchmaker: James Mulvany Helps Bring Podcasters and Guests Together
Subscribe: Apple Podcasts | Spotify | Stitcher | Overcast
Support the Show. Get the NEW AudioBook!
AudioBook: Audible| Kobo| Authors Direct | Google Play | Apple
Summary
Hey everyone. I wanted to quickly let you know about the release of the audio version of my book, The Entrepreneur Ethos, narrated by David A. Conatser. If you want to support the show, you can buy it wherever audiobooks are sold. Links are also in the show notes.
Also, thanks for listening and supporting the show. It means a lot to me that you'd spend your time trying to be a better entrepreneur.
Now on to my guest today, James Mulvany, founder and CEO of MatchMaker.fm, Podcast.co and Radio.co.
If you've been listening awhile, you probably know I connect with a lot of my guests through Matchmaker.fm, an easy-to-use platform that helps podcasters find guests and guests find podcasts. In just a year, MatchMaker has already grown to over 22,000 users.
Like many businesses, Matchmaker.fm grew out of a passion. In this case, James' passion was radio and he intended to pursue a career in it. He eventually realized the odds were low that he'd ever be a successful DJ, so to make money he started an online business, first in design and then offering streaming services. By the time James graduated from university, he already had a growing business, which evolved into Radio.co. Since then, he's added Podcast.co and Matchmaker.fm to his successful ventures.
James and I talked a lot about what it takes to be a podcaster and we offer a lot of suggestions for anyone who might want to try to be a guest on a podcast, so if you are even thinking about starting a podcast or being a guest on one, you won't want to miss this one.
Now let's get better together.
Actions to Try or Advice to Take
For anyone who wants to give podcasting a try:

James suggests planning out your first series, and not just a few episodes. Many podcasters give up after a few episodes partly because they don't have content. Find guests to tap into their expertise. (Matchmaker.fm is a great place to connect with potential guests.)
Know that it's going to be a lot of work at first, but eventually as you find a process and a rhythm, you might find it fun.

Being a guest on a podcast is a great way to get the word out about your product or service, but keep in mind:

Approach it like an opportunity to talk with someone, not a sale or an interview. Just focus on telling your story.
It doesn't matter how big the podcast audience is; use every and all opportunity to talk about what you offer. At the very least, you might have an interesting conversation.

Check out James' YouTube channel for more tips on starting a podcast and being a guest.
Links to Explore Further
Keep In Touch
Book or Blog or Twitter or LinkedIn or JSYPR or Story Funnel