How to Be a Rockstar Podcast Guest and Host As Well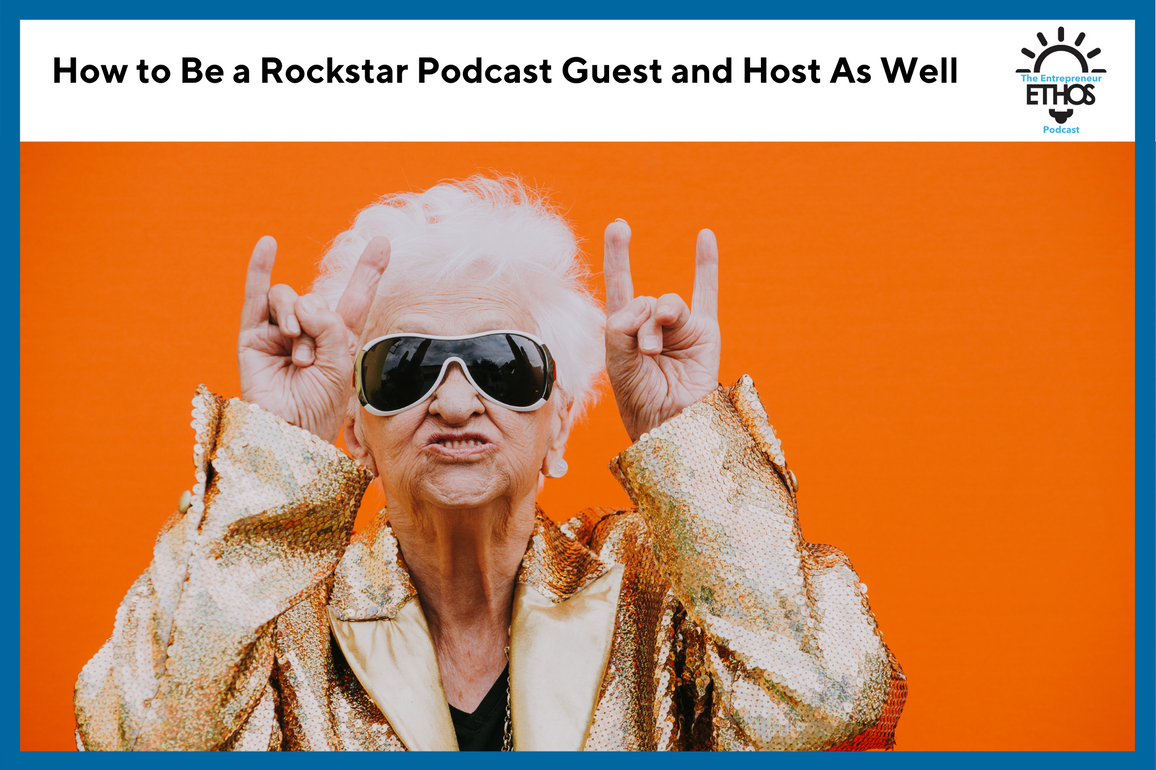 How to be a Rockstar Podcast Guest and Host as Well from my experience interviewing over 80 guests.
Subscribe: Apple Podcasts | Spotify | Stitcher | Overcast

Get the AudioBook!

AudioBook: Audible| Kobo| Authors Direct | Google Play | Apple

Hey everyone. I wanted to thank those that have given me a rating and a review. I now have 11, 5-star ratings on Apple Podcast, which is simply awesome. If you love the show, I'd appreciate a rating and a review. Each one means a lot to me.
Also, thanks for listening. I know your time is valuable and you could spend it with other podcasts.
Now on to a solo podcast about How to be a Rockstar Podcast Guest and Host as Well.
I have done over 80 interviews for the podcast to date and each one has been a learning experience. Some have been better than others but all of them have been part of the experience that has given me some insights into how to be a better guest and host.
I'm particularly thankful for all the guests who have taken their time to be on the show. I know it can be a challenge to set aside the time and brainpower to do podcasts.
So I decided to share some of the things that can make you a rockstar podcast guest. Of course, there are tons and tons of these types of guides all over the internet. I'm sure I'm going to cover a lot of what they will cover as well.
The reason I wanted to share these things first and foremost from a host's perspective so that you might get a glimpse as to what goes on in our minds. Well, at least mine.
So here we go.
Audio Quality Matters
Invest in a quality microphone and headphones. This not only makes you sound great it helps the host to be able to hear you. Stay away from wireless mics and headphones. They can sometimes have a delay that makes it challenging to hear and is distracting.
Pro-tip: Turn down the volume in your headphones so that you can barely hear them. If your headphones are too loud, your microphone will pick up the bleed.
As for the video quality, that's going to be podcast-specific. I know that some podcasts also do video and a good camera (with good lighting) will make you look really good on camera. I won't go into that for now. Maybe once I start doing the video, I'll revisit that.
Agree What's On/Off Limits
Make sure that you communicate what is on and off-limits. Also, ask about language preferences and how much you can pitch your company or idea. It's really important to agree on this because it helps everyone to level set how the conversation may go.
Come with Some Unique Nugget(s)
I always love it when a guest surprises me with a unique insight or nugget of wisdom. For me, that is what makes interviewing so fun -- the surprising insights.

Think of some unique nuggets of wisdom that you can share. The more unique the better. Ideally, you'd share unique insights on every show but it's okay to have a few that you rotate through.
Be Prepared by Doing Some Research
Seems obvious I know but you must understand what the podcast is about and stay on track as much as you can. Sure, you can ad-lib a bit on some of the stories but it's a better show if you stick to the theme.
Also, it's best to do some research so you can have something to refer to or nugget to talk about. You don't have to spend a ton of time doing this but it will pay off if you run out of things to talk about.
Do the Soft Sell
If the host lets you talk about your company or brand, do it in a way that's natural and part of the conversation. Don't constantly talk about your company unless the host asks. Provide value first to the host and the listeners before you talk about your business or class or whatever.
Be Yourself. Warts & All
It can sometimes be hard to reveal some private things about yourself. You may feel embarrassed or scared that those out in podcast land will think poorly of you. Rest assured this is not the case.
All of us have warts, issues, challenges, and can sometimes be in a bad mood. While being hostile to the host is a bad move, it's okay to talk about your feelings and struggles. People want to know that you're a real person with real problems trying to figure it out like them. If you're too perfect, it feels fake. Strive for a balance that's more positive and upbeat than Debbie Downer or in your own private pity party.
Have Some Stories Ready to Tell
Like the nuggets of wisdom above, have some stories thought out and ready to tell. Everyone loves a good story and the more stories you can tell about whatever topic you're talking about, the better.
Don't worry about how good they are just yet. The more you tell them the better you get. The challenge is to have some ready so it feels natural while you tell them. Yes, you should practice them just like you practice a speech or presentation.
What I like to do is jot down a few bullet points for the stories I like to tell. That way I can remember the beginning, middle, and end or punchline so to speak. Yes, you can do the same thing with jokes as well.
One thing to keep in mind is don't overdo it. If it sounds too scripted, people will notice and you won't be able to
Go With the Flow
Podcast interviews are a ton of fun because they are fluid. You really don't know how they will go and that's why they are great to listen to when they go well. While it's okay to have talking points, don't be married to them. Go with the flow. Feel out the interaction and see where it will take you.
I know for a lot of you, this freaks you out. That's okay. Do this as much as you can and practice it. The better you are at going with the flow, the better the interview will be.
Get Excited by Warming Up
Before the show, hype yourself up. Do some voice warm-ups. Hydrate. Go to the bathroom. Make sure you're in a quiet place. These may seem silly but every little thing you do to get in the mood to talk will come through.
Help Promote the Episode
Once the episode drops, it's extremely helpful to promote the show wherever you can. It's even better to link to it on your website, share it on social media, and tell all your friends. Show promotion is always appreciated.
So What About Being a Rockstar Host?
Everything above is the same thing I feel you need do to to be a rockstar host. I mean there may be some subtle differences but the intent is the same.
There is one thing that is the host does need to do that's not on the list above. That thing is.
Make The Guest the Star
Do your level best to make your guest the star of the show. As the host, it's your job to make the guest shine. I know that your listeners want to hear from you and listen because of you but if you want engaging guests, great interviews, and more listeners then focus on bringing out the star in your guest.
I know that can be a tough job but all the good hosts I listen to do just that. It's an important part of the craft and something that is a constant work in progress. I always strive to do that and get better at it for every interview.
Thanks for All Your Support
Oh. The last thing a rockstar host needs to do is say thank you a lot. So thanks for all your support and listening. It means the world to me that you would spend your valuable time with me.
I look forward to having many more great guests and getting better together.
Links to Check Out
I decided to do some research on other resources for being a rock start podcast guest. Here is what I found: