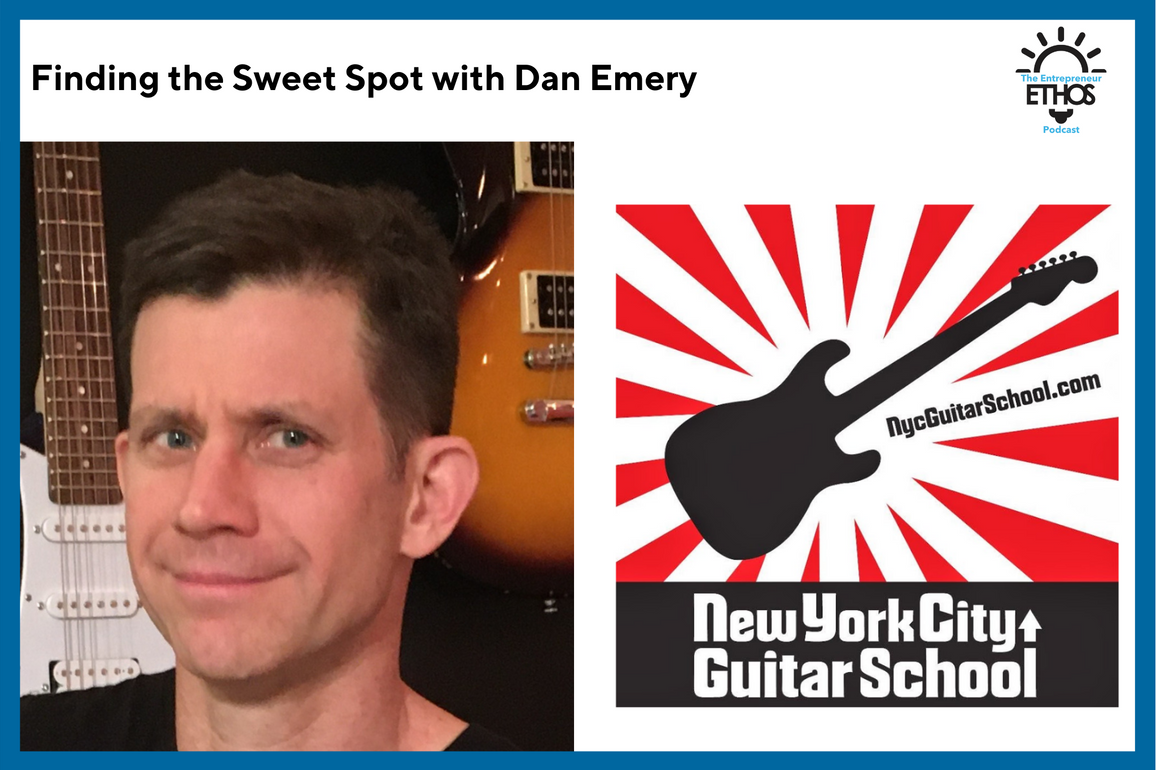 Finding the Sweet Spot with Dan Emery of New York City Guitar School
Subscribe: Apple Podcasts | Spotify | Stitcher | Overcast
Support the Show. Get the NEW AudioBook!
AudioBook: Audible| Kobo| Authors Direct | Google Play | Apple
Summary
Hey everyone. Stay tuned to the end of the interview where I'll give you some actionable insights that I learned from my guest. These insights are also in the show notes. As always, thanks for listening.
Now on to my guest today, Dan Emery, founder of the New York City Guitar School, who talks about the challenges of pivoting in COVID.
In early 2020, the New York City Guitar School was going strong with five physical locations and thousands of students. Dan and his team were starting to explore possibilities in online learning. When COVID hit and shut down in-person classes, the school had to go fully virtual. It wasn't easy but Dan was prepared: he'd put aside emergency savings and already was onboarding teachers into virtual platforms before the city went into lockdown. They did have to lay off office staff and close locations, but now they teach students all over the world and he sees online learning as a core aspect of their offerings.
With a master's in teaching from Columbia, Dan has developed a unique methodology to teaching students how to play music, encouraging his teachers to help students find their "sweet spot" - that place where they are challenged but can also achieve mastery and move on to harder lessons. Raised in Idaho on a farm, he also loves the way music connects people from different backgrounds and builds community.
Now let's get better together.
Actionable Insights

Dan struggled at first with whether his business should be a nonprofit. He's since adopted the belief that he can change people's lives through businesses, and indeed it's one of the best ways to effect change in the world.
Find your own sweet spot: focus your energy on what you uniquely have to offer, and lean on others' expertise for the rest. Whether it's implementing a project management system or a marketing strategy, someone has learned how to do it effectively, so you can focus on your own unique offering.
Be prepared. Emery's far-sightedness in having savings and then acting fast when he saw a crisis coming helped him to more effectively pivot and, while the business still struggled, they were able to come back strong in a new form that has enabled them to grow to offering lessons to students all over the world.
If you want to be in a band, Dan suggests being a bass player especially if you can sing. Those are in high demand.
Links to Explore Further
Keep In Touch
Book or Blog or Twitter or LinkedIn or JSYPR or Story Funnel