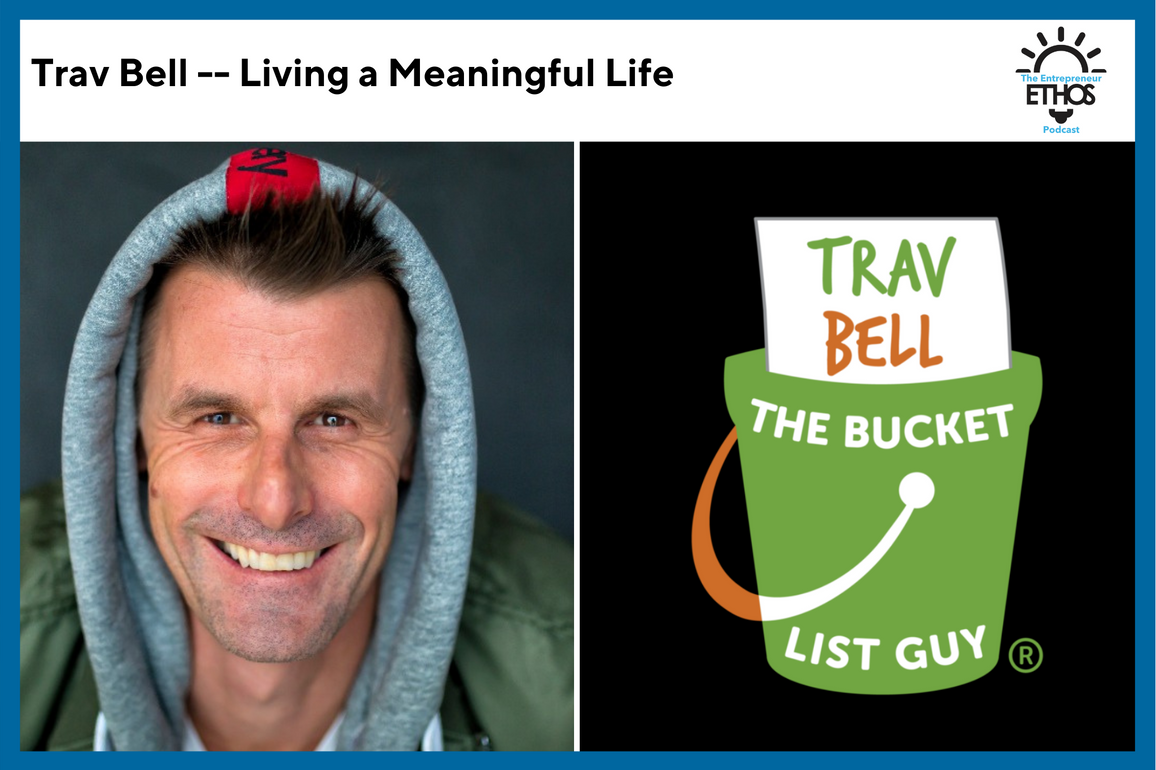 The Bucket List Guy: Trav Bell and Living a Meaningful Life
Subscribe: Apple Podcasts | Spotify | Stitcher | Overcast
Support the Show. Get the NEW AudioBook!
AudioBook: Audible| Kobo| Authors Direct | Google Play | Apple
Summary
Hey everyone. I wanted to quickly jump in and let you know about the release of the audio version of my book, The Entrepreneur Ethos, narrated by David A. Conatser. If you want to support the show, you can buy it wherever audiobooks are sold. Links are also in the show notes.
Now on to my guest for today, Trav Bell, the self-proclaimed #1 bucket list expert in the world.
Trav first found success as an entrepreneur with a personal training franchise. Then depression struck. He started looking for answers, mainly through taking seminars, attending events, and trying out experiences. Eventually, he decided to take what he learned and start teaching it to others. At his very first seminar, when he shared that he had a bucket list, someone in the audience said, "You're the bucket list guy." Trav took the label and ran with it.
Trav has been keeping a bucket list since he was 18. When he realized that many people don't have a written down list of what they want to do and accomplish in life, he latched onto this as a tool to teach people how to live more happy, purpose-filled lives. In the last 10 years, he's travelled all around the world giving talks and now has a cadre of certified bucket list coaches in 22 countries. His goal is to share his teachings with 10 million people so as many people as possible can live a regret-free life.

Now, let's get better together.
Actions to Try or Advice to Take

If you don't already have a bucket list, write one down (Bell recommends using pen and paper). For Bell's 12-step bucket list blueprint, see his Ted Talk (link below). M.Y.B.U.C.K.E.T.L.I.S.T

Bell talks of your bucket list as being a life plan. Your career plan should be in service to that plan, giving you time and money flow to do what you want to do. Does your current job allow you to do the things you want to be doing? Does it allow you to live life in a way that Bell calls "hitting your internal rule book" — living by your values?  If not, a bucket list can help you get clear on some ways you can move in this direction.
What have you learned that you can share with others? Bell stresses to thought leaders he works with that they have an obligation to share their insights. What wisdom or lessons can you impart that might help someone who is now in the same or a similar situation you were at one time? Whether it's through a talk, an article, book, video or course, consider the best way to deliver that teaching.
Links to Explore Further
Keep In Touch
Book or Blog or Twitter or LinkedIn or JSYPR or Story Funnel