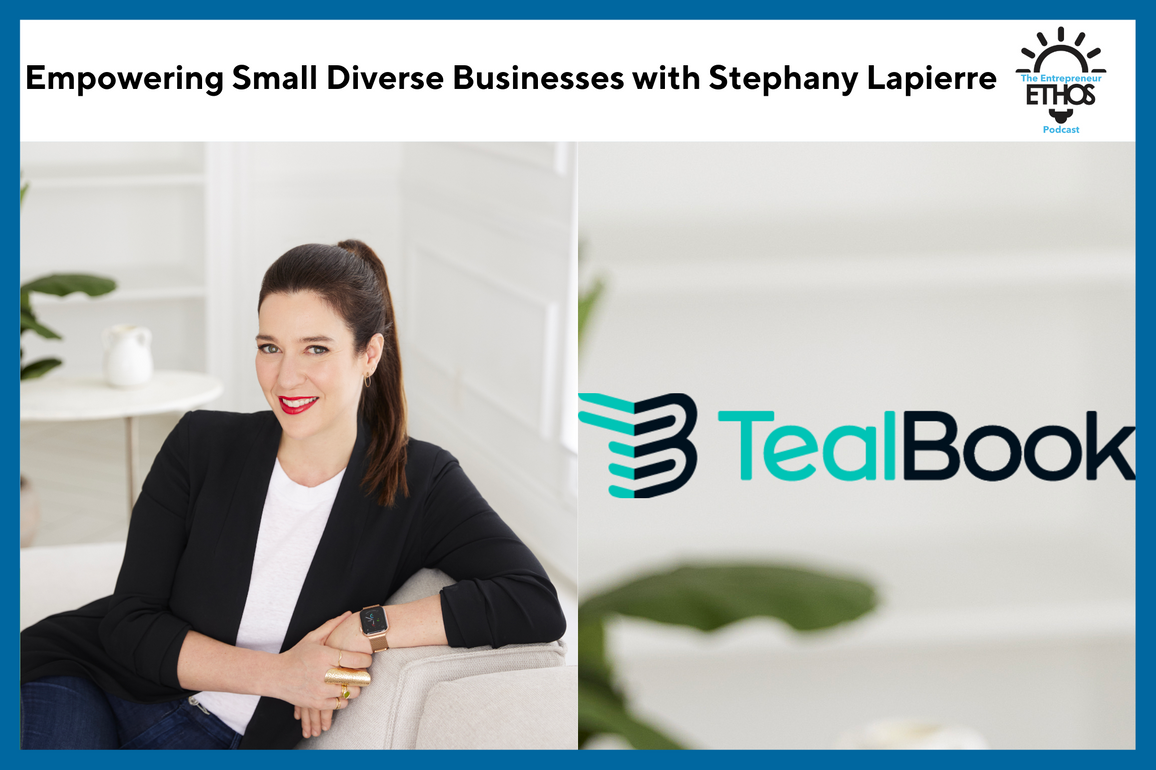 Driving Supplier Diversity: AI, Data Quality, and Fair Competition with Stephany Lapierre
Subscribe: Apple Podcasts | Spotify | Stitcher | Overcast

Support the Show. Get the AudioBook!

AudioBook: Audible| Kobo| Authors Direct | Google Play | Apple
Introduction
Welcome back to another episode of The Entrepreneur Ethos! We sat down to discuss with a truly inspiring guest, Stephany Lapierre, the founder of TealBook, a cutting-edge technology company revolutionizing supplier relationship management. In this episode, Stephany shares her incredible journey from starting a consulting business to creating a platform that helps companies find true innovation in their suppliers. She discusses the importance of financial stability, the need for diversity in the procurement process, and the power of AI and machine learning in streamlining business operations.

We also delved into the entrepreneurial lessons she's learned along the way, including the significance of having a supportive partner. This episode is packed with valuable insights and actionable advice for anyone on the entrepreneurial path. So, without further ado, let's dive in and hear from the remarkable Stephany Lapierre of TealBook!
Timestamps
00:01:40 Started TealBook to help find innovation in companies. Discovered lack of visibility and data in supplier relationships. Aimed to digitize and unify supplier information. Saw huge opportunities for companies to improve results. Started building a platform using cloud technology. Introduced AI and machine learning for automated data collection. Facing challenges in educating customers on AI. Capitalizing on market trends and opportunities.
00:10:19 TealBook: transparency and optimization for 3rd-party providers.
00:15:40 Early focus on suppliers evolved to AI. Educate suppliers, automate reporting, leverage technology, visibility for businesses, self-certification.
00:20:39 Level playing field for small businesses.
[00:22:36 Equality enables success, stimulates growth, and impacts communities.
00:25:50 Driving spend towards small diverse businesses, sometimes volunteering. Organize, improve data, champion, educate, motivate, and impact.
[00:29:35 Risk and financial stability for entrepreneurs.
00:35:21 Choose a partner wisely for a solid foundation.
00:38:09 Entrepreneur podcast: learn, share, improve, connect, follow.
Key Topics
- The company's shift from focusing on suppliers to utilizing AI technology
- Suppliers managing their own profiles and adding information
- Helping customers understand their spend with small diverse businesses
- Beneficial for obtaining funding or contracts from the federal government
- Automating the process of verifying and reporting small diverse suppliers
- Providing a clean and accurate baseline
- Identifying suppliers that qualify as diverse-owned but are not certified
- Offering them the opportunity to self-certify at no cost
- The competitive advantage of certification in certain bids
- Providing educational resources to suppliers
- Automating the process for tier 1 suppliers to determine their spend with small diverse businesses
- Making it more accessible to implement a supply diversity program
- Recognizing and accepting self-certification as a means of promoting inclusivity
- Avoiding high certification costs on suppliers.
Links
Keep In Touch
Book or Blog or Twitter or LinkedIn or Get Story-Driven