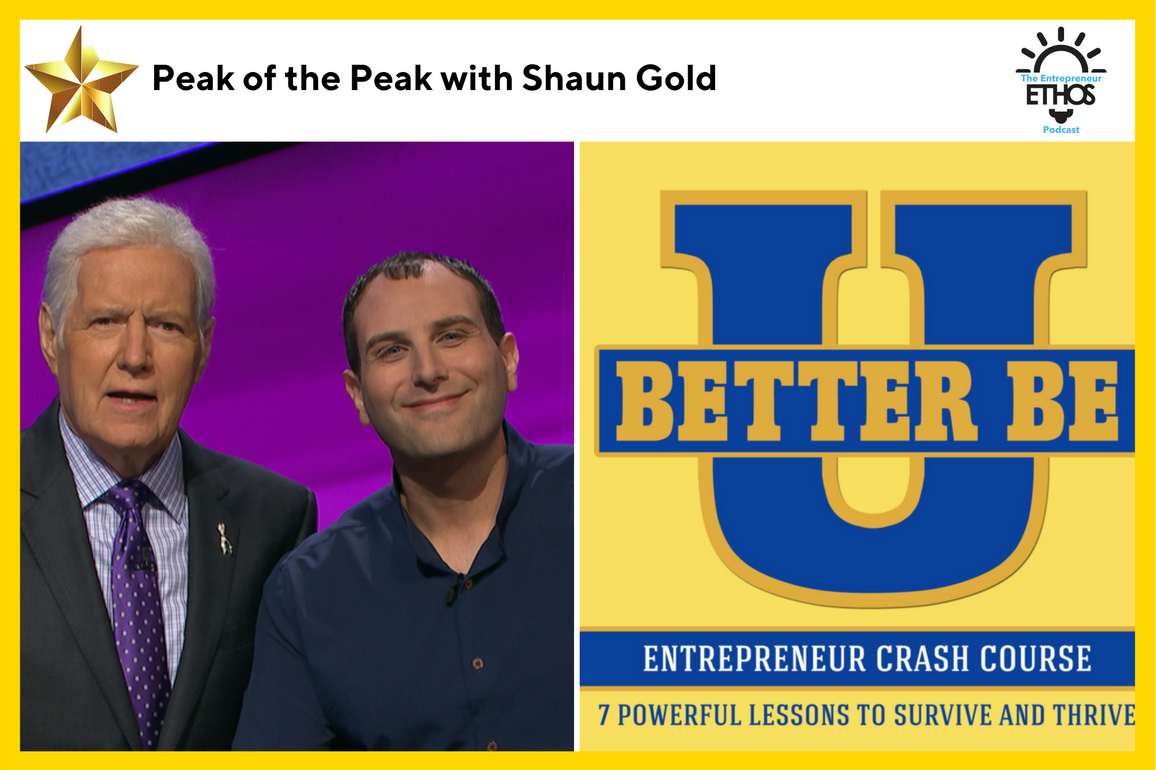 The peak of the Peak: Shaun Gold and Playing Big and realizing that life is one big risk.
Subscribe: Apple Podcasts | Spotify | Stitcher | Overcast
Support the Show. Get the NEW AudioBook!
AudioBook: Audible| Kobo| Authors Direct | Google Play | Apple
Summary
Hey everyone. I'm trying something new based on your feedback. Stay turned to the end of the interview where I'll give you some actionable insights that I learned from the interview. These insights are also in the show notes. As always, thanks for listening.
For this part, remember one thing. All of your answers need to be in the form of a question.
I'll take monumental achievements for 1,000 Alex.
Answer: The person that's the 100th interview on the best podcast for entrepreneurs on the planet, at least according to the host.
Ding: Who is Shaun Gold?
That's correct! Shaun Gold, you got your wish. You're my 100th guest!
Congratulations. Now, let's hear a little bit more about Shaun.
Shaun mastered the art of networking as a nightlife promoter in Miami for 15 years, a time in his life he calls "a great experience he'll never do again." He met people of all kinds and learned how to talk to people and earn their trust. Many of those people, some of whom are business leaders and celebrities, are still part of his network.
Shaun is a serial entrepreneur and has been an advisor for startups. He now focuses on writing and speaking, sharing lessons learned. Shaun believes you learn, grow, and eventually succeed by failing and never, ever, giving up. He cites the book Hagakure and its lesson on focusing and persistence. He encourages entrepreneurs to have the courage to step outside the box, to do the thing nobody else is doing, reminding us that AirBnB and Uber were once ideas others thought were crazy.  
Now let's get better together.
Actionable Insights
Gold shares many words of wisdom, including:
Don't care what others think about you. Stay focused on your dream.
Don't just copy what someone else is doing. Find something new to bring to the world.
Doing nothing leads to nothing. Even if an action doesn't bear fruit, you have to keep trying.
Links to Explore Further
Movie & book we discussed:
Keep In Touch
Book or Blog or Twitter or LinkedIn or JSYPR or Story Funnel