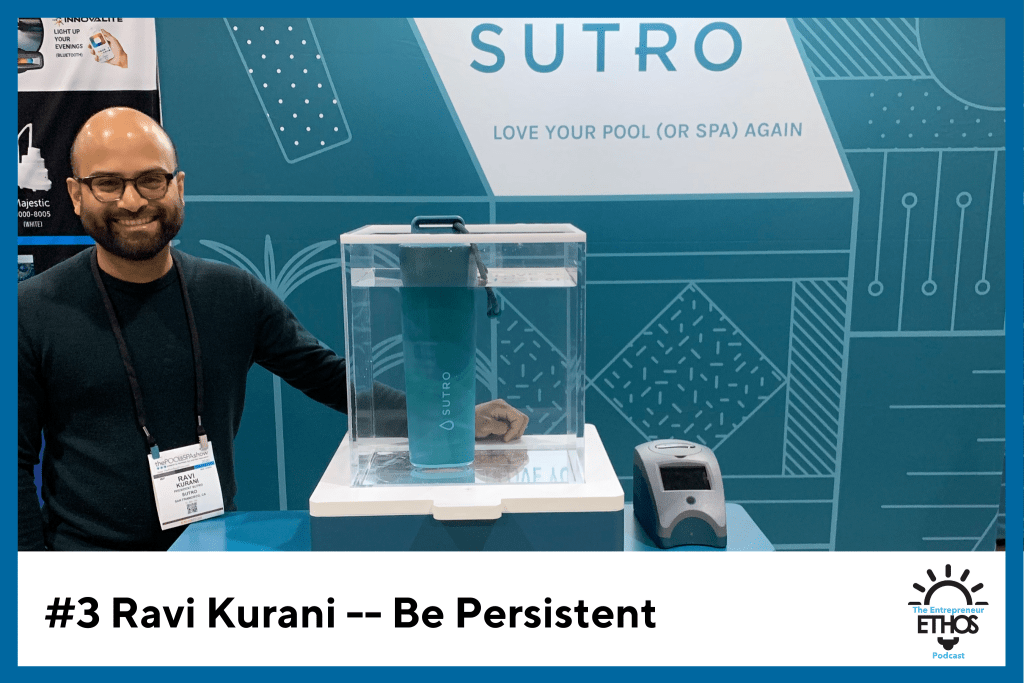 Ravi Kurani, founder and president of Sutro Connect joins me from his office at FOCUS Innovation Studio to talk about safe water, aliens, coronavirus, and persistence. Well, I talk more about aliens then Ravi but we do find out why he's no longer a rocket scientist.
Subscribe: Apple Podcasts | Spotify | Stitcher
Summary
In this episode, Ravi Kurani and I talk about startups, aliens, and why it's important to have persistence when trying to bring a new idea into the world. Ravi's company, Sutro Connect, is transforming the way pool and spa owners take care of their water. Their smart water monitor automatically measures water parameters and sends it to the cloud. With these measurements, pool and spa owners can know what chemicals to put in their water to keep it safe. If you have a pool or spa, you should check it out.
Ravi has been working on this idea for the past five years and it's near and dear to his heart because as a boy, he worked at his father's pool store and as a pool boy. I met Ravi a couple of years ago through The Hustle Ambassador Facebook group and now help him with Sutro's PR & Marketing.
We talk about a wide range of things including impact investing, safe water, aliens, coronavirus, and persistence. The one practice that we dig into is how to take time to get clarity on what you're working on by cleansing the mind and getting rid of your mind's TV static. Doing that can help you open your mind to new things.
You might hear some voices in the background. No, those are not aliens but a lively meeting in the next conference room. For some reason, our soundproof room did not mute it out. I guess that's what you get when you record live and in person.
Now, let's get ready to get better together.
Actions to Try or Advice to Take
It's not a good idea to try to sell your startup idea to a government agency.
Cleanse your mind by breathing and take care of your back and neck.
Dealing with the Chaos: Break it down into small parts and attack each one.
What's the Problem: Find the problem and ask why do you need to solve the problem instead of having a solution looking for a problem. Why do you want to solve the problem?
There will be a big push for better infrastructure in the future. There is a lot to do all over the world.
Keep an Open Mind: Get out of your bubble and experience what others think by keeping an open mind to other points of view.
The COVID-19 situation is making companies rethink their supply chains since China has been shut down for a month (at the time of recording).
Links to Explore Further
Keep In Touch