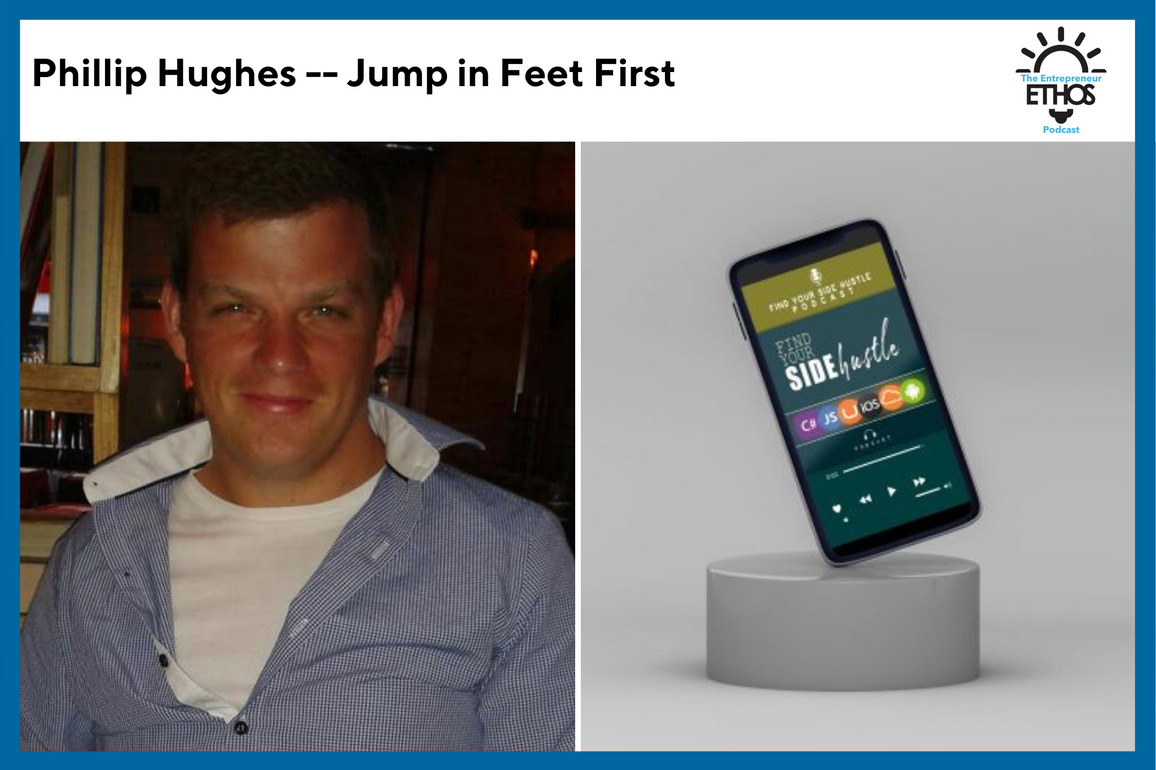 Jumping in Feet First: Phillip Hughes and the Art of the Side Hustle
Subscribe: Apple Podcasts | Spotify | Stitcher | Overcast
Support the Show. Get the NEW AudioBook!
AudioBook: Audible| Kobo| Authors Direct | Google Play | Apple
Summary
Hey everyone. I wanted to jump in quickly let you know about the release of the audio version of my book, The Entrepreneur Ethos, narrated by David A. Conatser. If you want to support the show, you can buy it wherever audiobooks are sold. Links are also in the show notes.
Now on to my guest for today, Philip Hughes, host of the Find Your Side Hustle podcast.
Phillip Hughes may be the ultimate side hustle guy. A software developer and podcast host based in Stockport, England, Phillip has had to push outside his comfort zone to learn how to market and sell products. He's developed several programs, including apps to help English football fans find the right place to go to watch the latest game to a fishing log app that helps fishermen, as well as a mail merge program for Outlook. Like many developers, his ideas have grown out of a problem he wanted to solve for himself and his own interests.
In our talk, he revealed that he's shifted from a "build it and they will come" approach to a "sell first, build it later" one. He credits the ideas of others he's learned from, like Tim Ferris, Seth Godin, and Pat Flynn, who opened up the idea of testing and validating an idea before building it out. He also shared the important lessons he's learned from training for endurance events: keep going. His podcast, "Find Your Side Hustle," offers ideas and inspiration for others doing side hustles.
Now let's get better together
Actions to Try or Advice to Take
Getting out of your comfort zone is probably advice you've heard before, but Hughes stresses that consistency is key; endurance training has taught him that persistence in testing those boundaries is what's going to keep you going.
There are always lessons in failures; they tell you what you need to work on strengthening.
If you're someone who builds something and then tries to sell it, try inverting it. This is called validating: put your idea out there and see if there's interest before spending hours on development.
Links to Explore Further

Keep In Touch