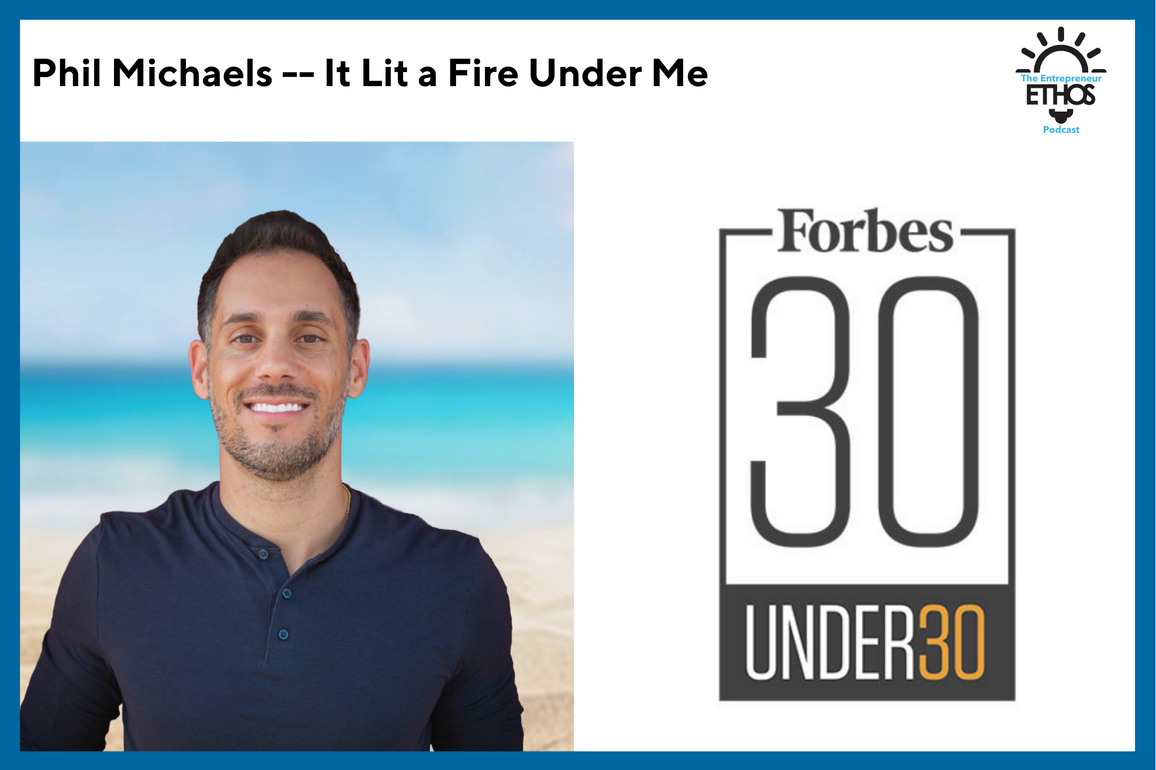 "It Lit a Fire Under Me:" Phil Michaels and the Call of Entrepreneurship
Subscribe: Apple Podcasts | Spotify | Stitcher | Overcast

AudioBook: Audible| Kobo| Authors Direct | Google Play | Apple
Summary
Hey everyone. I wanted to quickly let you know about the release of the audio version of my book, The Entrepreneur Ethos, narrated by David A. Conatser. If you want to support the show, you can buy it wherever audiobooks are sold. Links are also in the show notes.
Now on to my guest today, Phil Michaels, CEO of Tembo and a business and life coach. Forbes has listed him as one of the top 30 social entrepreneurs under 30.
Before he'd even heard the word, Phil was an entrepreneur. He began his career selling lemonade on the soccer fields out of his sister's puppet playhouse. He moved on to selling Pokemon cards, taking football bets in high school, and promoting nightclubs as a college student. He loved the hustle, yet he never considered being his own boss. He pursued a pre-med program, intending to become an ophthalmologist. Then he read Robert Kiyosaki's Rich Dad, Poor Dad, and his life changed completely.
Phil went on to co-found a company that built one of the first fitness apps, going on Shark Tank to promote his idea. He's now CEO of Tembo Educational Group, a company that helps parents all over the world educate their kids using text messaging. Most recently, he's started a coaching business for high achievers and CEOs.
In this podcast, Phil shares thoughts on the importance of fostering creativity in kids, how to tap into their motivation, the keys to building good daily habits for success, and the important questions everyone needs to ask themselves.
Now let's get better together.
Actions to Try or Advice to Take
Michaels says the three most important questions one can ask yourself are:
Who are you spending the most time with? He believes in the adage that you are the sum of the five people you spend your time with.
Where are you spending most of your time? Does your environment nurture, support and inspire you?
What content are you consuming? Are you reading and learning how to become better, or are you mindlessly scrolling through social media? The books we read and the shows we watch and listen to directly impact our thoughts and attitudes.
Links to Explore Further
Books mentioned:
Rich Dad, Poor Dad: What Rich People Teach Their Kids That the Poor and Middle Class Do Not!  by Robert Kioysaki
The ONE Thing: The Surprisingly Simple Truth Behind Extraordinary Results, by Gary Keller and Jay Papasan
Breath: The New Science of a Lost Art, by James Nestor
Keep In Touch
Book or Blog or Twitter or LinkedIn or JSYPR or Story Funnel