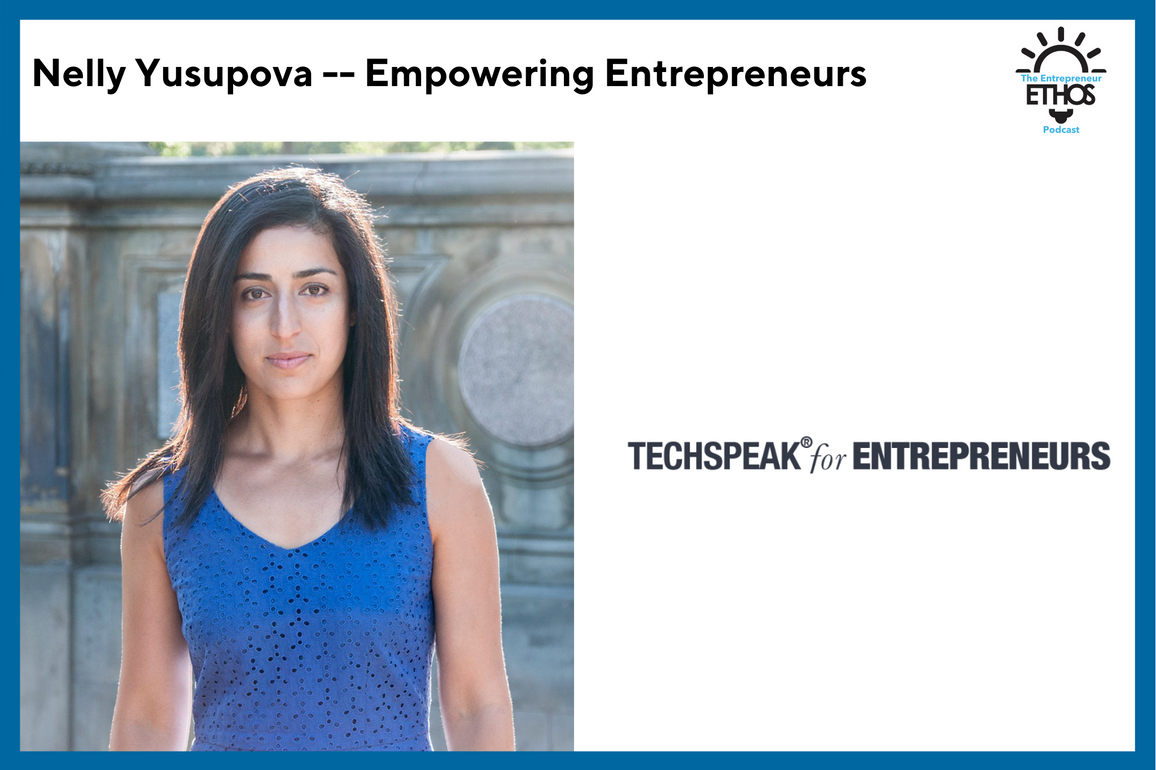 Empowering Entrepreneurs: Nelly Yusupova Teaches TechSpeak To Help Businesses Succeed
Subscribe: Apple Podcasts | Spotify | Stitcher | Overcast
Support the Show. Get the NEW AudioBook!
AudioBook: Audible| Kobo| Authors Direct | Google Play | Apple
Summary
Hey everyone. I wanted to jump in quickly let you know about the release of the audio version of my book, The Entrepreneur Ethos, narrated by David A. Conatser. If you want to support the show, you can buy it wherever audiobooks are sold. Links are also in the show notes.
Now on to my guest for today, Nelly Yusupova, founder of TechSpeak for Entrepreneurs, a coaching program for entrepreneurs.
Nelly founded TechSpeak for Entrepreneurs after a career as a CTO for Webgrrls International, where she started out as a developer fresh out of college with a bachelor's degree in computer science. After a brief stint in the corporate world, she found she liked the world of startups better and went back to Webgrrls, a company that has provided support and networking to women to learn how to better leverage technology. She founded TechSpeak in 2012 in order to help entrepreneurs better understand how to manage the technical side of their business.
Nelly's story is one of hard work and determination. She was thrown into a job where she had to quickly learn English after emigrating to the United States with her family at the age of 13, where she also learned the value of service and helping others. Even though she knew nothing about computers when she entered college, she graduated within three years.
Nelly came up with the idea for TechSpeak after speaking to many entrepreneurs about frustrating experiences with technical development. She realized she needed to share what she'd learned about the importance of building and following a process when building a company. These are the lessons she shares in TechSpeak, originally a live bootcamp and now available online. Nelly wants to help as many entrepreneurs to succeed as possible by giving them the tools they need to better understand and communicate the technical implementation process of building a company.
Now let's get better together.
Actions to Try or Advice to Take

Before building your product, iterate. "Fail early, fail often, fail cheap," Yusupova says. Building a prototype and trying it out first is key to long-term success without breaking the bank.
Don't just leave everything up to the "tech people." Learn enough so that you can ask the right questions and set down a process to follow. Developers are not trained for project management.
If you're a tech person who aspires to leadership, take business classes. Learn how to communicate with everyone and see things from others' perspectives. Don't dictate: ask for feedback.
Links to Explore Further
Keep In Touch