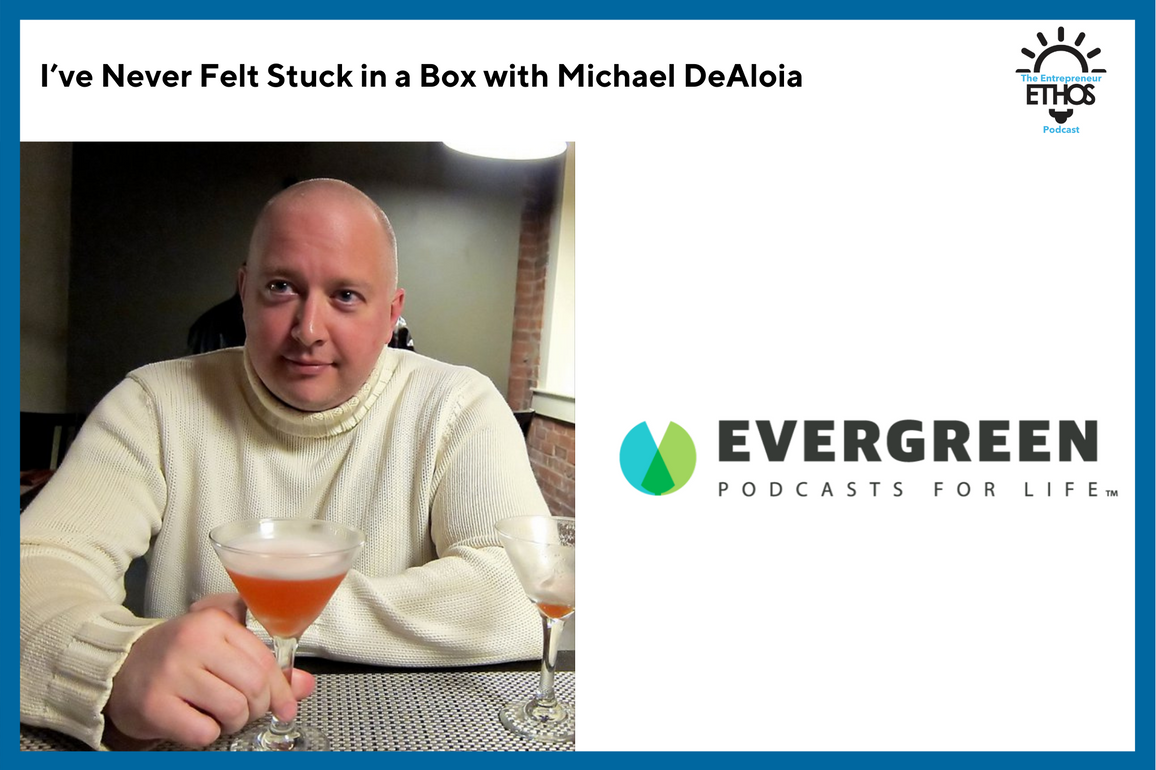 I've Never Felt Stuck in a Box with Michael DeAloia on Growing a Podcast Company
Subscribe: Apple Podcasts | Spotify | Stitcher | Overcast

Support the Show. Get the NEW AudioBook!

AudioBook: Audible| Kobo| Authors Direct | Google Play | Apple
Summary
Hey everyone. Stay tuned to the end of the interview where I'll give you some actionable insights that I learned from my guest. These insights are also in the show notes. As always, thanks for listening.

Now on to my guest today, Michael DeAloia, CEO of Evergreen Podcasts.

Micheal holds an MBA in finance from Case Western Reserve, but he's earned his chops as a business leader and entrepreneur by his involvement with a variety of successful entrepreneurial projects. While he didn't "study" entrepreneurship - such a track didn't exist when he was in grad school - he grew up with grandfathers who ran their own businesses. Michael co-founded BlueBridge Networks and EmergingChefs.com. He also served as the "tech czar" for the city of Cleveland. Currently, as CEO of Evergreen Podcasts in Cleveland, he has taken on the challenge of how to monetize the booming podcast industry.  Evergreen has gone from starting with 17,000 downloads in all of 2018 to 4.2 million in the last year - and Michael hopes to see that number double next year.

Evergreen Podcasts started with radio shows designed to help parents at home with their kids on topics like literature and history. The company has taken this "evergreen" idea and is growing it into a much larger podcasting platform, to become what Michael sees as "the Jan Brady" of companies. Michael works closely with his Chief Creative Officer, who he's shared an office with and who he hopes to go back to working closely with in person once everyone is back in the office. He values human interaction and sees the importance of being able to share ideas and thoughts throughout the day in order to see creative growth.

Now let's get better together.
Actionable Insights
Creative growth happens through the impromptu interactions you have with others throughout the day. Michael spoke of the importance of those moments, moments many of us have come to see the value of as so many have gone to remote work.
Use every opportunity to tell your story. Michael reflected on a missed opportunity to do this.
You don't have to be the one and only. Michael recognizes that there's plenty of room for more than one company in his industry; it's carving out your own place in it that's important.
Links to Explore Further
Keep In Touch
Book or Blog or Twitter or LinkedIn or JSYPR or Story Funnel