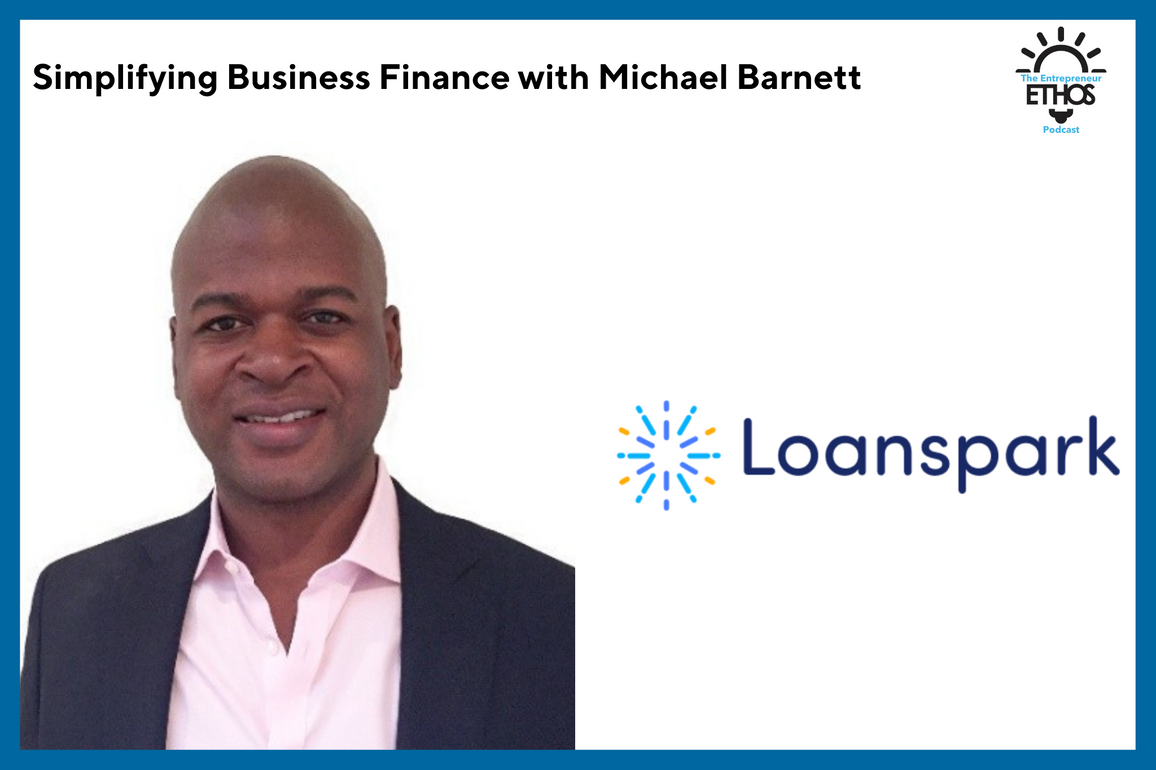 Simplifying Business Finance with Michael Barnett of LoanSpark
Subscribe: Apple Podcasts | Spotify | Stitcher | Overcast
Support the Show. Get the AudioBook!
AudioBook: Audible| Kobo| Authors Direct | Google Play | Apple
Introduction
On this episode of The Entrepreneur Ethos, host Jarie Bolander interviews Michael Barnett, the founder of Loanspark Marketplace. Michael shares his insights on the importance of finance for small businesses and startups, highlighting the difficulties they face in obtaining capital. He explains that Loanspark's marketplace model connects small businesses to lenders or individuals with capital or lines of credit. Michael emphasizes the need for clear and simple language when explaining these concepts for better understanding.
Moving on to Loanspark Marketplace, Michael explains that they specialize in serving a wide range of small businesses, from startups to companies that have been established for a century. They primarily focus on main street businesses like coffee shops, pizza stores, and clothing stores. Loanspark partners with various companies, including platforms, banks, finance companies, and business services companies, to offer their services to customers. Michael praises his marketing team for their blogging efforts on loanspark.com and highlights the importance of feeling comfortable with the person assisting in the loan process. He also warns about unscrupulous individuals and companies in the loan industry. Michael emphasizes the need for thorough consultations and understanding the business needs of clients before providing loans.
He mentions that Loanspark differentiates itself by having sales staff who act as advocates for small business owners. These staff members conduct interviews with clients to understand their needs, goals, past experiences, and financial considerations, in order to create a personalized plan and strategy for obtaining the best loan product at the best price. Michael believes that building relationships with customers is crucial and values having a specific person that customers trust at Loanspark. Customers often call their original agent for advice and potential future loans. Loanspark Marketplace also allows other businesses, like banks, to utilize their platform as a marketplace.
Timestamps
00:00:57 Accidental entry into commercial capital, Loanspark's inception.
00:07:23 Marketplace for loans, helping small businesses access capital.
00:11:23 Bank of America can use Loanspark Marketplace.
00:15:29 Small business owners take longer to make loan decisions due to increased interest rates and the need to evaluate financing costs. Necessity lending transactions move faster.
00:19:45 Commercial side: double digit rates are normal.
00:21:22 Marketing team blogs well, need trustworthy assistance.
00:27:52 Consumer decision affects loan, business decision doesn't.
00:32:01 Repeat customers trust and call original agents.
00:33:56 Enjoy the Entrepreneur Ethos podcast; share.
Key Topics
- Importance of finance for small businesses and startups
- Loanspark's specialization in small businesses
- Loanspark's marketplace model
- Explanation of marketplace model using simple language
- Promotion of the Entrepreneur Ethos podcast and call to action for listeners
- Information about the speaker's email list and book
- Ways to follow the speaker on Twitter
- Invitation for questions, recommendations, and feedback on the podcast
- Overview of Loanspark Marketplace and their customer base
- Loanspark's partnerships with various companies
- Value of blogging efforts on loanspark.com
- Importance of trust and comfort in the loan process
- Differentiation of loanspark through sales staff advocacy
- Building relationships with customers
- Loanspark Marketplace as a platform for other businesses
- Comparison of commercial and consumer lending
- Need for informed decision-making in loan acceptance
- Factors influencing loan acceptance for small business owners
- Slower acceptance of loans due to increased interest rates
- Evaluation of cost of financing for small business owners
- Quicker transactions for necessity lending
- Speaker's journey into commercial capital and founding loanspark
Links
Keep In Touch
Book or Blog or Twitter or LinkedIn or Get Story-Driven