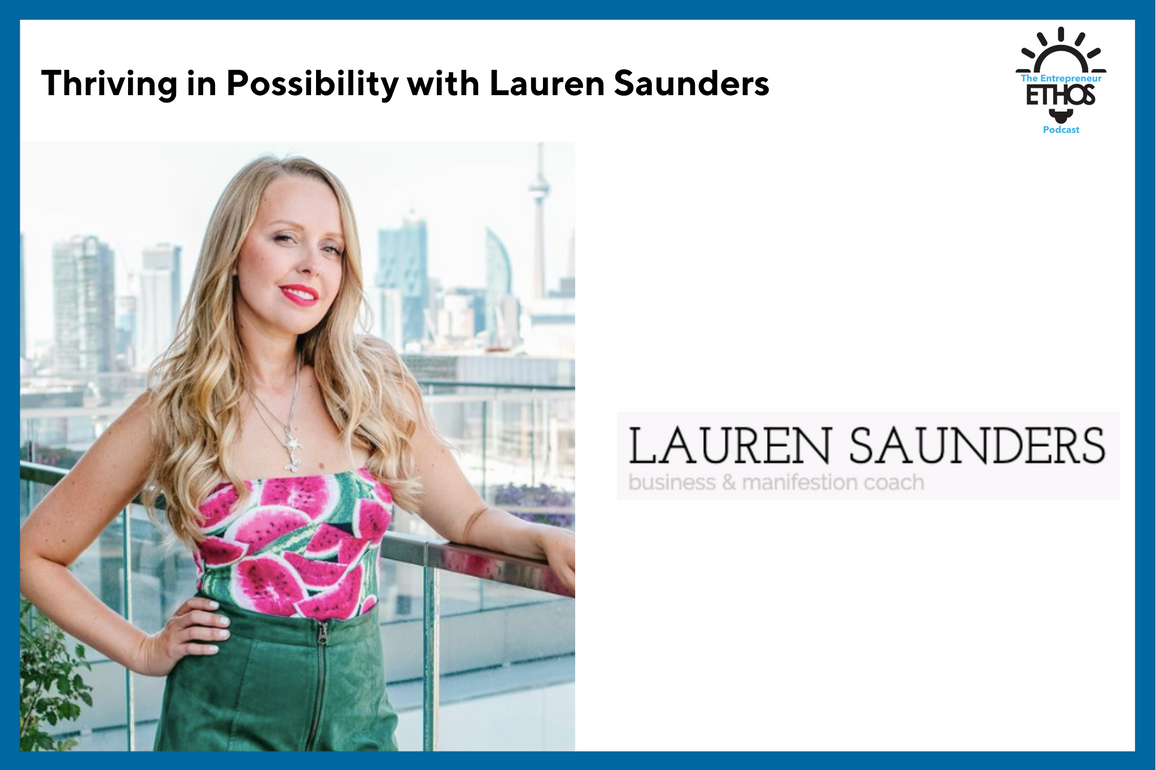 Thriving in Possibility with Lauren Saunders, Business Mentor
Subscribe: Apple Podcasts | Spotify | Stitcher | Overcast
Support the Show. Get the NEW AudioBook!
AudioBook: Audible| Kobo| Authors Direct | Google Play | Apple
Summary
Hey everyone. Stay tuned to the end of the interview where I'll give you some actionable insights that I learned from my guest. These insights are also in the show notes. As always, thanks for listening.
Now on to my guest today, Lauren Saunders, business mentor and coach.
Lauren attended university for visual arts and teaching and started a teaching career in Australia. When she came back home to Toronto, she struggled to find work and started thinking about other options. Having seen a friend build a successful business doing eyelash extensions, she decided to try it out as a side business. Lauren "fell in love with being a business owner,"  and the business quickly took off. She quit her part-time teaching gig and focused on growing her business, teaching others how to build a similar business and then expanding out to coaching and guiding online entrepreneurs. She also hosts the podcast The Aligned Entrepreneur.
Lauren is a prime example of a creative who overcame her limiting beliefs to find a way to be of service while also building a life she loves. She believes if you come from a place of abundance, being of service, and believing in yourself, you will connect with the right people and find your way. She teaches entrepreneurs to first find what their areas of competence are, so they can show up with confidence, and then figuring out a way to offer that in a way that people need in order to create a thriving business.
Now let's get better together.
Actionable Insights
Whatever your business, it's important that you get comfortable telling your story. Everyone needs to start somewhere. Lauren laughs about her early attempts at YouTube videos, but understands it was a beginning that brought her to where she is now.
Be the person you need to be, even if it means breaking out of your comfort zone.
Be willing to explore and try something out. Ask what's the next step that feels exciting, and have the courage to take it.
Apply what you know to a different industry or sector. Business is business is business but how you approach it can also be innovative.
Links to Explore Further
Keep In Touch
Book or Blog or Twitter or LinkedIn or JSYPR or Story Funnel