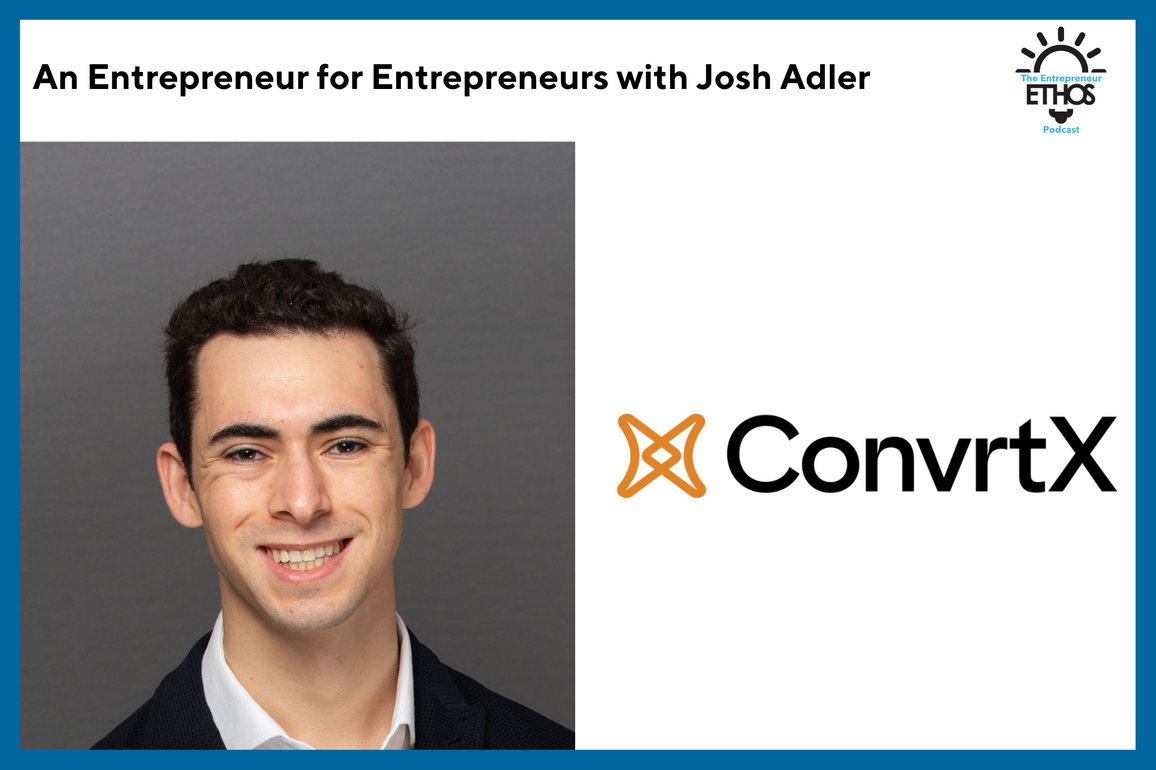 An Entrepreneur for Entrepreneurs: Josh Adler of Convrtx.
Subscribe: Apple Podcasts | Spotify | Stitcher | Overcast

Support the Show. Get the AudioBook!

AudioBook: Audible| Kobo| Authors Direct | Google Play | Apple
Summary
Hey everyone. Stay tuned to the end of the interview where I'll give you some actionable insights that I learned from my guest. These insights are also in the show notes. As always, thanks for listening.

Now on to my guest for today, Josh Adler, a serial entrepreneur and founder of Convrtx. Convrtx offers help to startups in four ways: through strategic support, help in raising capital, product development, and launch strategy.
Josh comes from a family of successful entrepreneurs in Canada. He started out as young as eleven in accounting and worked his way through various aspects of business, which has given him unique insights into how to build and run a company. He attended the University of Toronto for business and  MIT, where he earned a certificate in cybersecurity. He has launched several other businesses, including Open Advisor, a support network to help startups globally and in particular in developing countries.
In our talk, Josh shares insights into the ways in which Dubai, where he now lives, contributes to a flourishing culture of entrepreneurship. The government offers financial support for people who go from working for the government to launching a startup. When COVID hit, providing free, regular testing along with tight restrictions around people who tested positive helped the area, which relies heavily on tourism, to stay resilient.
Now, let's get better together.
Actionable Insights
While Josh had the privilege of starting early by working for his family company, he stresses that ultimately it's about putting in the work and continuing to do so until you see results.

Though it might not seem like a great time to try to raise money for a business, Josh says it's actually a good time to do so, especially for startups in the early stages. There's a lot of investment to be had for founders in this stage.

While not previously an avid reader, Josh now reads two books a week, saying it's important to learn from others as much as possible. Below are the four books Josh recommends for all entrepreneurs, noting that these cover the important areas that entrepreneurs should focus on:

The Lean Startup: How Today's Entrepreneurs Use Continuous Innovation To Create Radically Successful Businesses, by Eric Ries

The Titanic Effect: Successfully Navigating the Uncertainties That Sink Most Startups, by Tood Saxton, M. Kim Saxton, and Michael Cloran

The $100 Startup: Reinvent the Way You Make a Living, Do What You Love, and Create a New Future, by Chris Guillebeau

Secrets of Sand Hill Road: Venture Capital and How To Get It, by Scott Kupor
Links to Explore Further
Keep In Touch