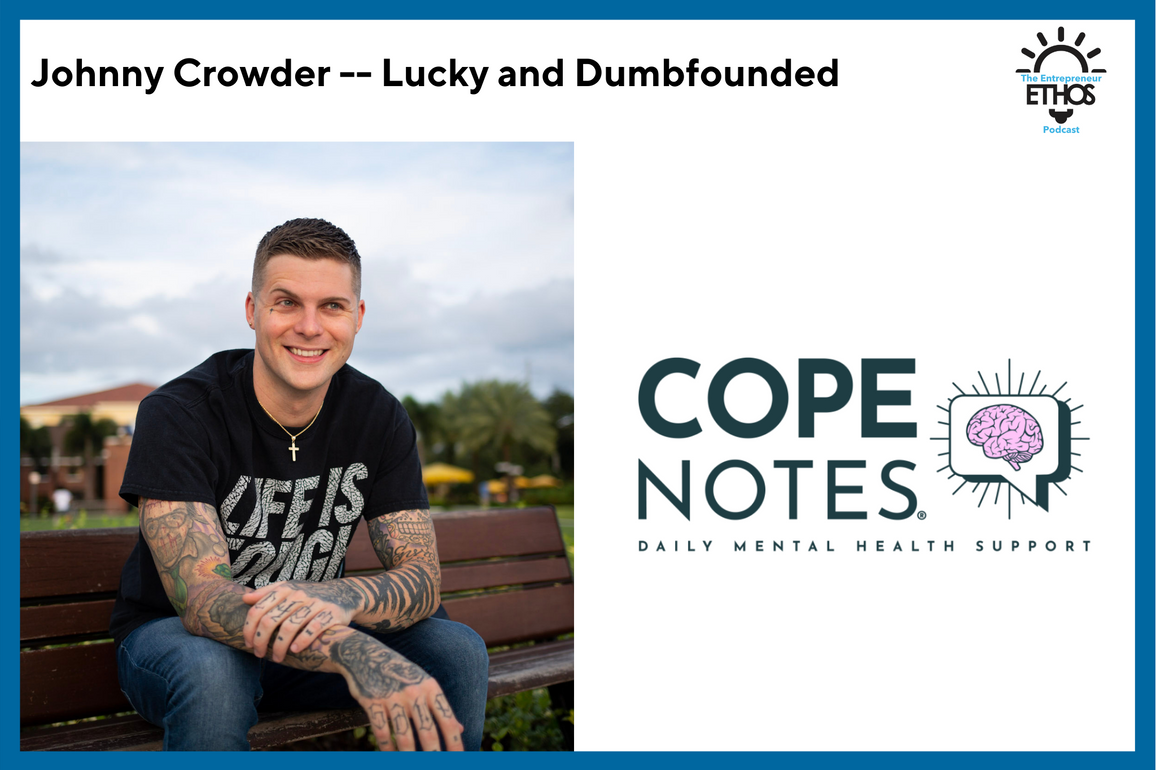 "Lucky and Dumbfounded": Metal Rock Singer Johnny Crowder Wants To Change How People Think of Mental Health
Subscribe: Apple Podcasts | Spotify | Stitcher | Overcast
Support the Show. Get the NEW AudioBook!
AudioBook: Audible| Kobo| Authors Direct | Google Play | Apple
Summary
Hey everyone. I wanted to quickly let you know about the release of the audio version of my book, The Entrepreneur Ethos, narrated by David A. Conatser. If you want to support the show, you can buy it wherever audiobooks are sold. Links are also in the show notes.
Also, thank you so much for listening to the show. I really appreciate it.

Now on to my guest today, Johnny Crowder, singer for the band Prison and founder and CEO of Cope Notes.

Johnny is not your typical CEO. He was recently featured in Forbes with his shirt off displaying all his tattoos. He's also the singer of the metal rock band Prison. Cope Notes grew out of Johnny's own struggles with abuse and mental health conditions as well as being a mental health peer mentor and advocate. He wanted to create something that would help kids like him that hang out at metal shows. He was surprised when his creation, a text messaging program to help people rewire their brains, worked for all kinds of people. He's proof that you don't have to be a "techie" to have a tech start-up.

Johnny shares how being a musician has helped him not only better understand what the kids in his own community needs, but how it's helped him connect with the people who have helped his company succeed. Ultimately his goal is to bring the discussion of mental health out from the dark and to encourage people to take a more preventative approach to being mentally healthy.

Now let's get better together.
Actions to Try or Advice to Take
Meet your customers where they're at. Crowder realized he needed something that didn't require people to log in. After signing up, his subscribers receive random text messages that help them rewire their brains for mental health - nothing else required.
Keep it simple. A successful start-up doesn't have to have complicated tech.
Mine your community. Crowder was able to meet with people that were connected to organizations that have bought his product through his shows.
Tell your story. Everyone has a story and it's important that we share our experiences. It's the only way to help others that might be struggling with the same things you are.
Links to Explore Further

Keep In Touch
Book or Blog or Twitter or LinkedIn or JSYPR or Story Funnel