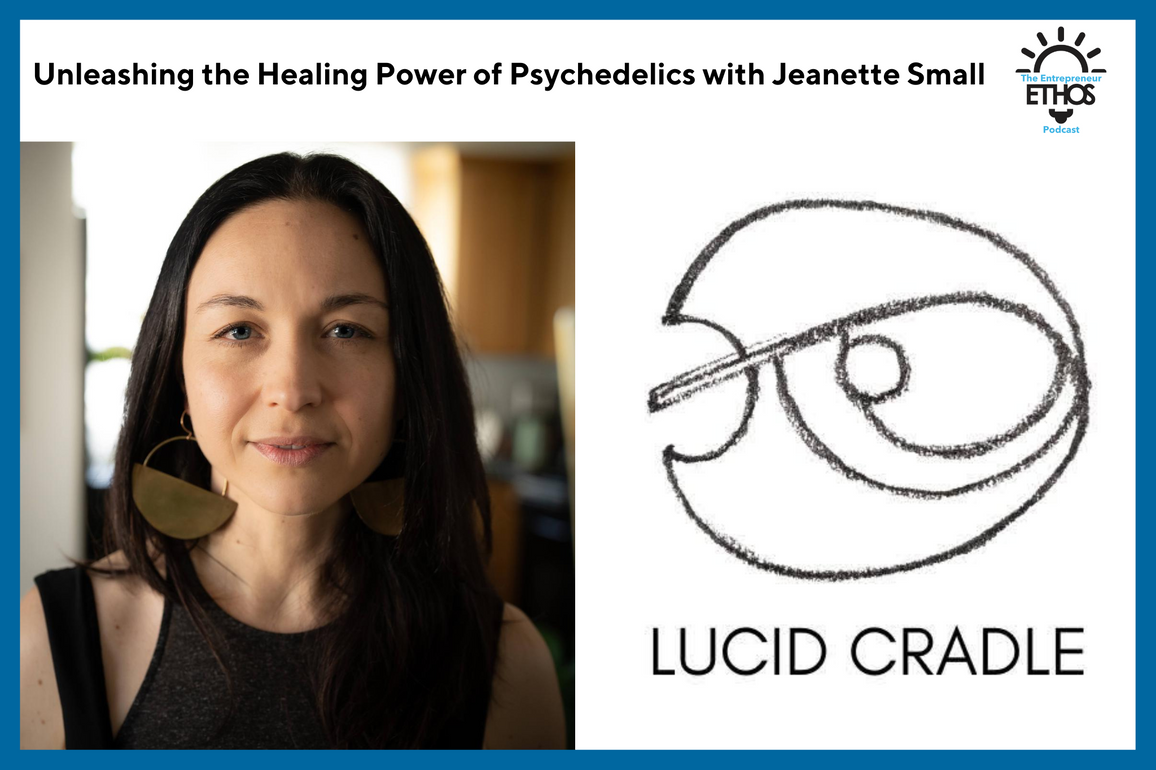 Unleashing the Healing Power of Psychedelics: Jeanette Small's Path from Trauma to Transformation
Subscribe: Apple Podcasts | Spotify | Stitcher | Overcast

Support the Show. Get the AudioBook!

AudioBook: Audible| Kobo| Authors Direct | Google Play | Apple
Introduction
Subscribe: Apple Podcasts | Spotify | Stitcher | Overcast

Support the Show. Get the AudioBook!

AudioBook: Audible| Kobo| Authors Direct | Google Play | Apple
Introduction
Welcome back to The Entrepreneur Ethos! In today's episode, we have an inspiring interview with Jeanette Small the founder of Lucid Cradle, a remarkable individual who has overcome numerous obstacles and is now on a mission to revolutionize the field of psychology using innovative approaches like psilocybin therapy. Jeanette's journey started in the Soviet Union, where she experienced firsthand the repercussions of being considered an outsider. Her family's transgenerational trauma and the collapse of the Soviet Union shaped her early years, but Jeanette's resilience and thirst for knowledge led them to overcome adversity. After finding herself in San Francisco, Jeanette embarked on a path of discovery, using education as a safe haven to excel in the challenging immigrant experience. Her talents were recognized by the San Francisco Museum of Modern Art, leading to exciting opportunities in the art world. However, her true passion lies in the realm of psychology, and her experiences with psilocybin have been transformative on a personal level.

Determined to make a difference, Jeanette aims to establish industry standards for the responsible use of substances like psilocybin and create a sustainable business that prioritizes the well-being of clients. Join us as we delve into Jeanette's extraordinary story and explore the future of psychedelic therapy in this thought-provoking episode of The Entrepreneur Ethos!

Timestamps
00:02:45 German Jewish family in Soviet Union struggles. Survives war, civil war, and immigrates to the US. Finds opportunities in art and education.
00:12:07 Psychiatrist specialized in opioid addictions, prescribed SUBOXONE.
00:16:05 Exploring psychology through research and clinical work.
00:20:35 Long-selling book, importance of entrepreneurship, pioneering psychedelic research.
00:23:00 Personal experience with psilocybin for healing trauma, advocating responsible exploration.
00:27:30 Unethical government program creates mind control. Powerful psychedelics can be beneficial. Concerns about business model and industry growth.
00:31:19 State provides choice, regulations and opportunities. Starting own business without compromises or investors. Using personal savings to fund company. Creating sustainable business while paying bills. Ethical concerns raised by others.
00:36:02 Taking risks is applauded; entrepreneurial experience. Personalized, intensive 3-day psilocybin therapy. Confidential and safe.
00:42:08 Transformational, grateful, Conclusion

Key Topics

- Introduction of the guest, Jeanette Small
- Jeanette Small's background and experiences growing up in Soviet Union
- Being considered outsiders and dealing with conflicts around transgenerational trauma
- Witnessing political oppression and the collapse of the Soviet Union
- Jeanette Small's journey to the United States and experiences as an immigrant
- Reconnecting with their father in San Francisco and overcoming challenges
- Discovering opportunities in the Bay Area as a young immigrant
- Jeanette Small's education and career path in psychology
- Pursuing psychology after changing from business economics
- Exploring the connection between psychedelics and trauma/addiction treatment
- Discussion on the business model for psychedelics
- Comparing it to the pharmaceutical industry and the natural occurrence of psychedelics
- Potential models for the industry, such as therapy and clinics
- Thematic psychology and the connection between the mind and body
- Challenging Cartesian dualism and emphasizing the importance of the body
- Wisdom and survival instincts found in all cells of the body
- Jeanette Small's search for a school that values both research and working with people
- Finding Santa Barbara Graduate Institute and their programs in somatic psychology
- Seeing somatic psychology as beneficial for a broader audience and those with cognitive limitations
- Jeanette Small's personal experiences with psilocybin and their transformative impact
- Each journey being unique and helping find direction in life
- Advocating for responsible use and establishing industry standards
- Jeanette Small's work with a psychiatrist specializing in opioid addictions
- The transformative impact of their conversation with the psychiatrist
- The importance of training and research in prescribing SUBOXONE
- Jeanette Small's approach in starting their own business in the field
- Wanting to avoid compromising on the clinical side and not taking on investors
- Funding the business with personal savings and leveraging their house
- Jeanette Small's dedication and commitment to their work
- Wanting to contribute as a pioneer and dedicate the next 20-30 years to their work
- Designing a personalized 3-day intensive program for trauma recovery with psilocybin
- Closing remarks and invitations to engage with Jeanette Small
- Encouraging listeners to share and review the podcast
- Inviting listeners to join the email list and purchase the book
- Offering to connect with listeners on Twitter and invite feedback and suggestions
Links
Keep In Touch
Book or Blog or Twitter or LinkedIn or Get Story-Driven