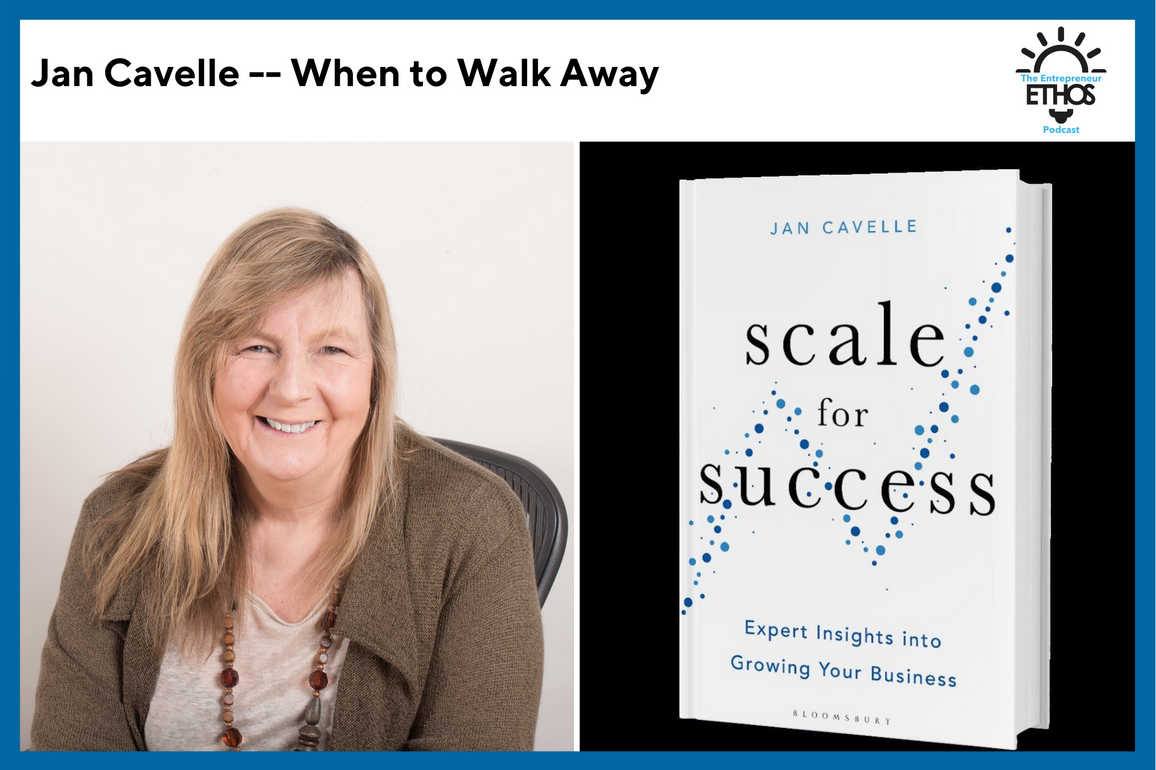 Sales Is Not a Dirty Word": Entrepreneur Jan Cavelle on Building a Business - the power of Walking Away
Subscribe: Apple Podcasts | Spotify | Stitcher | Overcast
Support the Show. Get the NEW AudioBook!
AudioBook: Audible| Kobo| Authors Direct | Google Play | Apple
Summary
Hey everyone. I wanted to quickly let you know about the release of the audio version of my book, The Entrepreneur Ethos, narrated by David A. Conatser. If you want to support the show, you can buy it wherever audiobooks are sold. Links are also in the show notes.
Now on to my guest for today, Jan Cavelle, author and entrepreneur.
Jan Cavelle ran her own furniture company in England for 19 years before giving it up. She now shares her insight and expertise with the world through writing and speaking. Her book, Scale for Success, is forthcoming from Bloomsbury in February.
Jan grew up on a farm and took a series of sales jobs. Once she became a single mom, she was motivated to earn enough to support her family. She tried her hand at buying and selling wares to interior designers. When she found she couldn't obtain what the market was demanding, she took out a loan to start a furniture company.
Jan talks about the tough times she went through that almost broke her -- something a lot of entrepreneurs go through but rarely talk about.
After some years, she became burned out, and eventually decided to leave the business that was no longer satisfying her desire to live with purpose. She found that she loved writing, so much so that she faced her fears of being an imposter to publish her writing online and eventually land a book contract to write about the entrepreneurial journey.
Scale for Success shares insights and stories from her own journey as well as that of other entrepreneurs across the globe.
Now let's get better together.
Actions to Try or Advice to Take
No matter what your goal is, learn how to sell. It's an essential skill whether or not you want to be an entrepreneur. And if you're an entrepreneur, learning your customers' struggles is imperative.
Most entrepreneurs need a purpose other than making money. When Cavelle realized she needed something more to motivate her, she made the leap to leave her business.
Be a risk-taker.  Cavelle shares that she started her business on credit "with a loan advertised from the back of a Sunday paper" and later, when she wanted to write a book, she called Bloomsbury – and they said yes.
Links to Explore Further
Keep In Touch
Book or Blog or Twitter or LinkedIn or JSYPR or Story Funnel