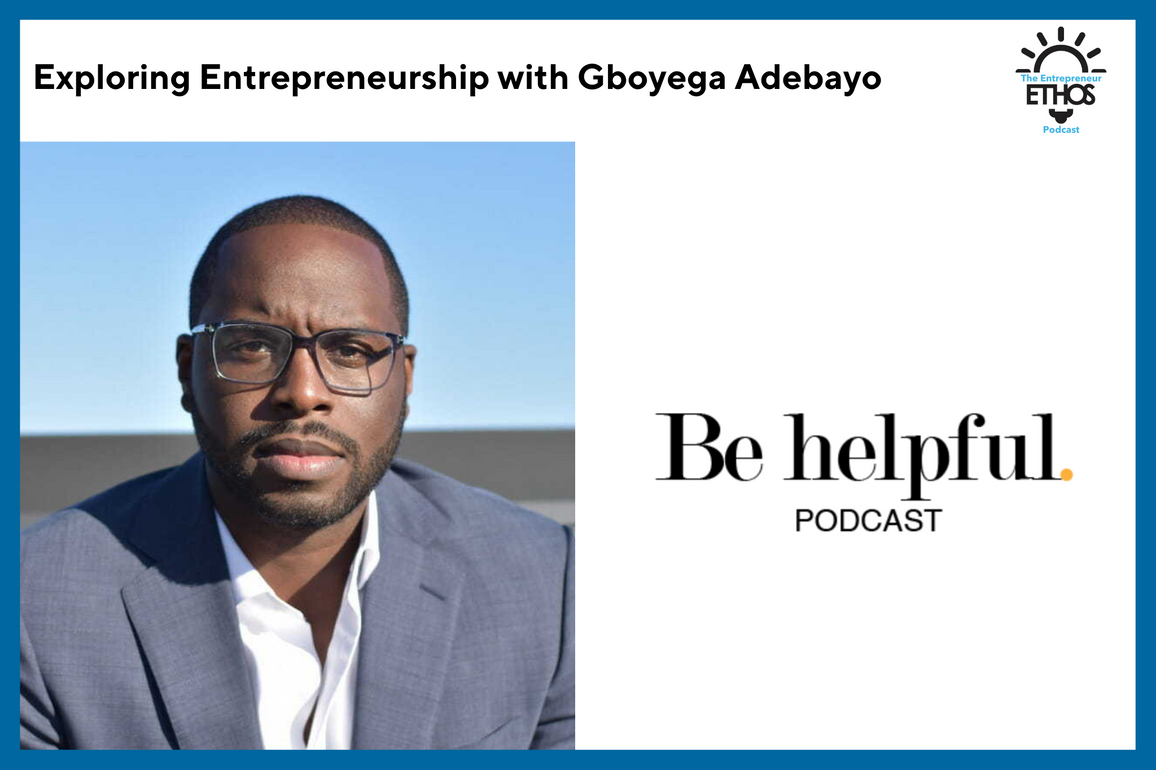 Gboyega Adebayo is a successful entrepreneur who always knew he wanted to run his own business.
Subscribe: Apple Podcasts | Spotify | Stitcher | Overcast

Support the Show. Get the AudioBook!

AudioBook: Audible| Kobo| Authors Direct | Google Play | Apple
Introduction
On this episode of The Entrepreneur Ethos, Jarie Bolander speaks with Gboyega Adebayo about his journey as an entrepreneur. Adebayo shares his experience of pursuing three business ideas simultaneously and realizing it was unsustainable. He talks about his podcast, the Be Helpful podcast, and his startup, Yensil, both aimed at helping aspiring entrepreneurs. Adebayo emphasizes the importance of solving problems that one is passionate about, rather than just trying to make money. He encourages experimentation and learning from others. Adebayo also shares his thoughts on the importance of community among entrepreneurs and how cities like New York, Chicago, and San Francisco are good environments for entrepreneurship. Finally, he discusses the significance of community and the ecosystem, using the example of the many coffee shops in his town and promoting entrepreneurship.
Timestamps
00:02:00 Entrepreneurial drive led to current career.
00:05:56 Entrepreneurship is lonely without coworkers.
00:09:24 Introverted editor reflects on pandemic work changes.
00:13:02 Entrepreneurs need shared experience and support.
00:16:27 Friend's coffee shop promotes community and entrepreneurship.
00:19:45 Work at United disrupted by 9/11. Entrepreneurship important.
00:23:41 Startup Yensil: sell professional docs on Etsy.
00:27:35 Obsessed with solving problem, launched product late.
00:30:43 Engineer struggles with selling own creations.
00:33:15 Learn from others, podcast is my experiment.
00:38:25 Inflection points at 1k, 10k, 100k.
00:39:58 Boyega's evolution leads to self-improvement.
00:42:55 Entrepreneur Ethos podcast, learn, share, improve.
Key Topics
Topics covered in the audio session:

- The speaker's learning style and how it influences their podcast and startup
- The importance of focusing on problem-solving and experimentation
- The speaker's introverted nature and their thoughts on working with others
- The speaker's background in business and entrepreneurship
- The speaker's startup, Yensil, and its inspiration and purpose
- The speaker's personal growth and advice for embracing challenges
- The speaker's experience launching a product and the importance of building an audience
- The shared struggle and sense of mission among entrepreneurs
- The importance of having a community of like-minded individuals
- The benefit of entrepreneurship for communities and the greater world
- The speaker's thoughts on coffee shops and the entrepreneurial ecosystem

Bullets for each topic:

Learning Style and Podcast:
- Learning through other people's experiences and mistakes
- The Be Helpful podcast as a way to learn and have conversations with other entrepreneurs
- Belief in fast experiments and obsession over the problem

Problem-Solving and Experimentation:
- Focus on problem-solving and being passionate about the solution
- Experiment with different ways to solve problems, such as volunteering and accelerators

Introverted Nature and Working with Others:
- Difficulty working around extroverted people who enjoy bouncing ideas off others
- Acknowledgement of benefits of being around other entrepreneurs
- Curiosity about the location of the person they are speaking with

Background in Business and Entrepreneurship:
- Parents owning their own businesses
- Focusing on picking up skillsets to start their own company
- Past career in tech finance and desire to be an entrepreneur

Yensil:
- Inspiration and purpose behind Yensil
- Original idea as a side hustle during the pandemic for those reconsidering their careers
- Renewed sense of urgency during the pandemic

Personal Growth and Embracing Challenges:
- Accomplishments and learning experiences as an entrepreneur and parent
- Encouragement to embrace discomfort and challenges

Launching a Product:
- Obsession over problem-solving leading to lack of focus on building an audience and a go-to-market strategy
- Realization of the importance of building an audience while developing the product
- Belief that a product taking more than three months to build is likely too much

Entrepreneurial Communities:
- Shared struggle and sense of mission among entrepreneurs
- Importance of having a community of like-minded individuals
- Benefit of entrepreneurship for communities and the greater world

Coffee Shops and Entrepreneurial Ecosystem:
- Buying coffee from a friend and the value of conversation
- The importance of having a lot of coffee shops as a sign of a healthy ecosystem and community
- The benefits of reaching out to people who are not like you to promote entrepreneurship.
Links
Keep In Touch
Book or Blog or Twitter or LinkedIn or Get Story-Driven