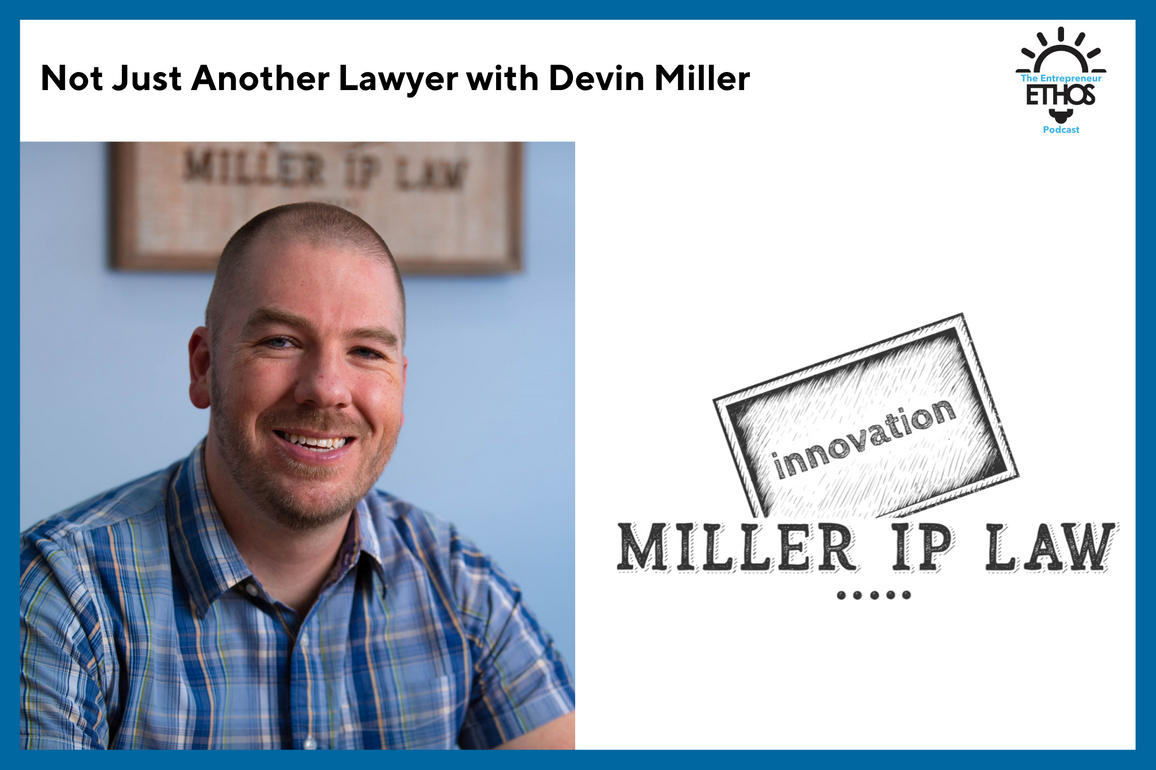 Not Just Another Lawyer: Devin Miller and What You Need To Know About IP Law
Subscribe: Apple Podcasts | Spotify | Stitcher | Overcast
Support the Show. Get the NEW AudioBook!
AudioBook: Audible| Kobo| Authors Direct | Google Play | Apple
Summary
Hey everyone. As always, stay tuned to the end of the interview where I'll give you some actionable insights that I learned from my guest. These insights are also in the show notes. As always, thanks for listening.
Now on to my guest today, Devin Miller, an attorney who practices intellectual property law and who is also an entrepreneur.
Some people learn by doing; others learn in school. Devin has done both, having earned four degrees, starting out in engineering, where he quickly realized he didn't want to be a "cog in the wheel." He went on to earn an MBA and a JD, graduating with both degrees in the same year. As a business student, he regularly competed in business competitions and he has founded several companies. He was also an intellectual property attorney, working for such big companies as Apple, Amazon, and Intel. It's no surprise that Devin decided to strike out on his own and start his own law firm, Miller IP, where he focuses on helping startups and entrepreneurs with intellectual property issues.

Navigating the terrain of patents can be tricky for an entrepreneur. When do you file? Devin offers some insight into the process, including why you don't want to wait too long, and when you might want to think about applying for patents in other countries. Since his primary focus is on helping startups, he's also developed a less expensive alternative for businesses and entrepreneurs who need a more affordable option but don't want to risk just doing it themselves. Snap Legal offers a bridge between the do it yourself legal solution and hiring an attorney. Always looking to be of service, Devin also offers free strategy sessions to help companies determine if hiring an IP attorney is the right step for them.

Now let's get better together.
Actionable Insights
Devin's business strategy is focused on his clients: who they are and what they need. He doesn't just offer one service; he seeks to meet his clients where they're at. In this way, he's building a relationship with potential clients even before they might be in the position to hire him.
Protecting intellectual property is a crucial step in the startup phase; you can't do it too early, when you don't yet know what you're protecting, but you also don't want to wait too long, when it might be too late. Find out early when and what you need to do to protect your company.
Devin cautions entrepreneurs not to buy into the myth of overnight success. All successful businesses have years of blood and sweat behind them.
Links to Explore Further

Keep In Touch
Book or Blog or Twitter or LinkedIn or JSYPR or Story Funnel