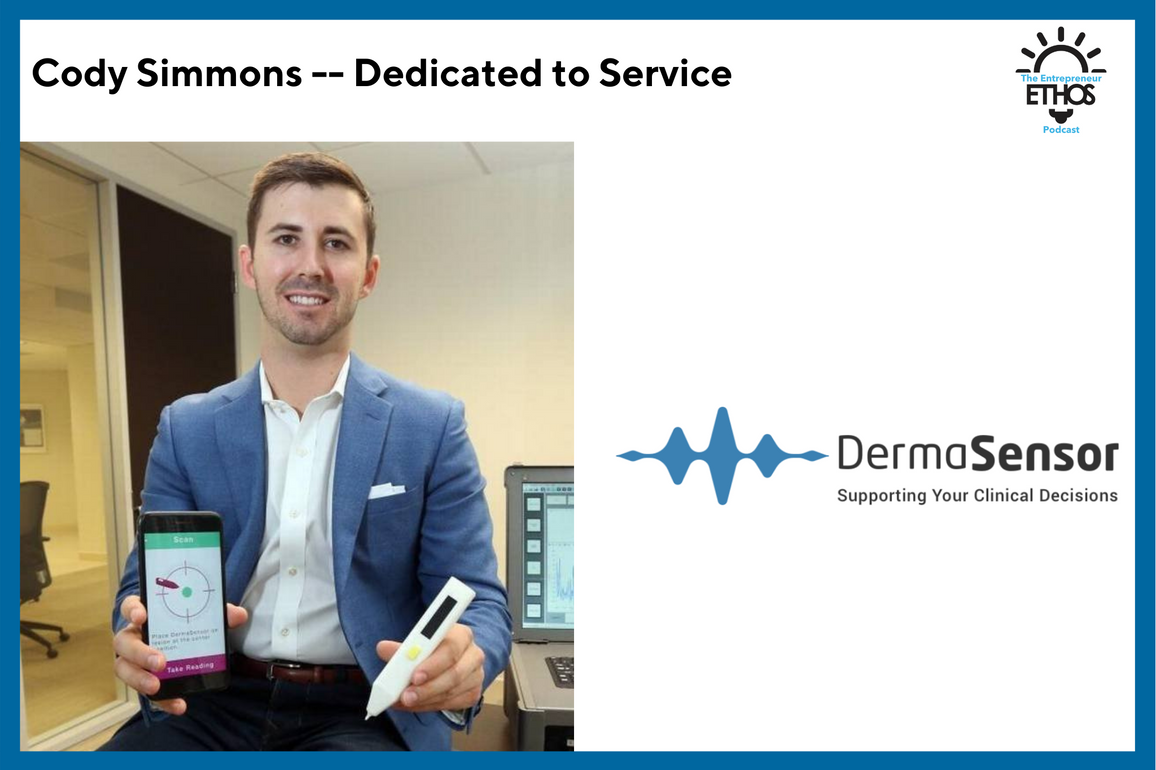 Cody comes from a family dedicated to helping others, and he sees his work with DermaSensor as helping people in a big way.
Subscribe: Apple Podcasts | Spotify | Stitcher | Overcast
Support the Show. Get the NEW AudioBook!
AudioBook: Audible| Kobo| Authors Direct | Google Play | Apple
Summary
Hey everyone. I wanted to quickly let you know about the release of the audio version of my book, The Entrepreneur Ethos, narrated by David A. Conatser. If you want to support the show, you can buy it wherever audiobooks are sold. Links are also in the show notes.
Now on to my guest for today, Cody Simmons, CEO at DermaSensor, a health technology company in Miami focused on helping support clinical decisions around skin cancer.
DISCLAIMER: The DermaSensor device is currently CE Marked and is also registered and available for sale in Australia and in New Zealand, It is investigational and not currently approved or available for sale in the U.S.
Cody comes from a family dedicated to helping others, and he sees his work with DermaSensor as helping people in a big way. After studying bioengineering and business at Brown, he did graduate work at Stanford, and followed his interests in science and business by working for various companies and cultivating his leadership skills at a large, established company.
His role at DermaSensor is to oversee bringing a product to market that will help primary care providers detect skin cancer. This, Cody explains, will save thousands of lives, as currently many people with skin cancer are either misdiagnosed or do not follow up with a specialist.
By making the detection of possible cancer easier and more accessible, DermaSensor is poised to help more people find out earlier whether they have cancer, making a huge difference in mortality and quality of life for many skin cancer patients.
As CEO of a medical device company, Cody has a lot resting on his shoulders, from overseeing product development to pursuing funding opportunities. He says that his experiences as a competitive tennis player, in addition to his motivation to help people, has taught him to pick yourself back up and keep going when things get rough.
Now let's get better together.
Actions to Try or Advice to Take
Everyone has their part to play. Simmons recognizes that while he's not a teacher or doctor, he can use his skills and interests to make a difference and help others.
Always keep your why in mind. Simmons' motivation to help save lives not only keeps him going, it's also an important part of convincing others – like investors – to get on board.
Know when you need to call in the experts. Simmons realized that the product the company's founders envisioned would need people with specific expertise to make it happen. Once he brought in those experts, the development process went more quickly.
Links to Explore Further
Keep In Touch
Book or Blog or Twitter or LinkedIn or JSYPR or Story Funnel