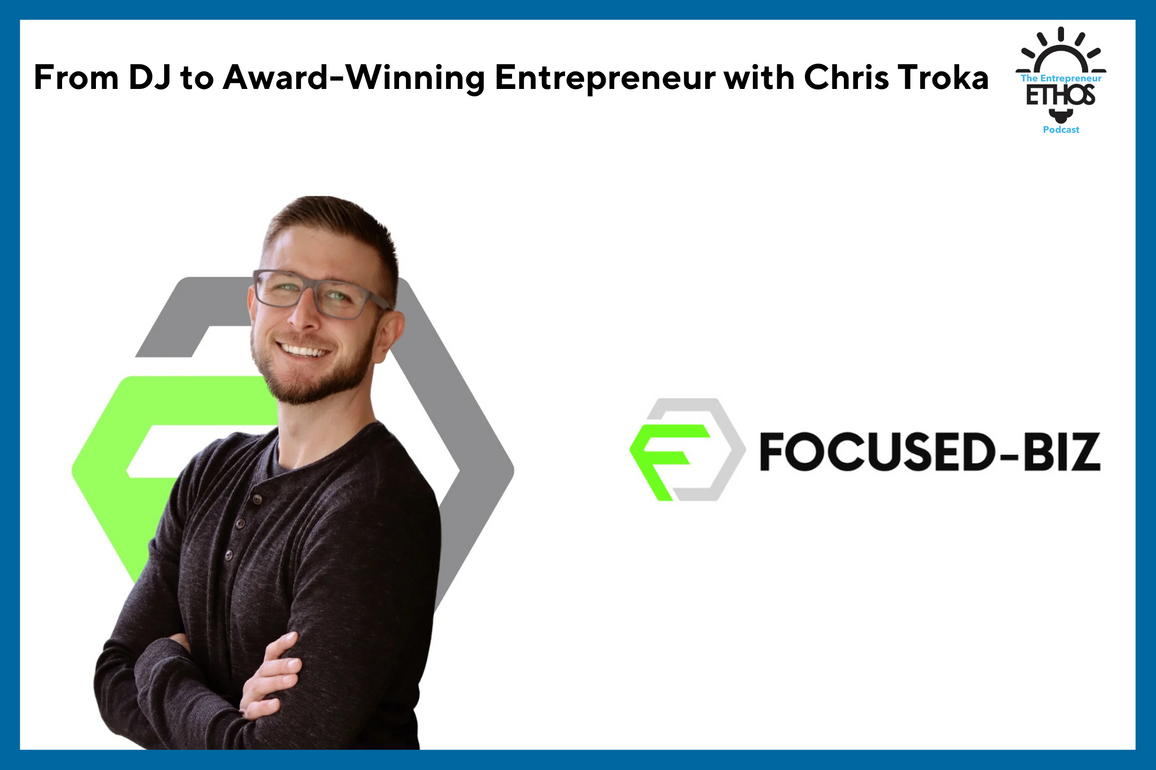 Chris Troka, an entrepreneur who believes that the idea of AI causing the end of the world is not accurate.
Subscribe: Apple Podcasts | Spotify | Stitcher | Overcast

Support the Show. Get the AudioBook!

AudioBook: Audible| Kobo| Authors Direct | Google Play | Apple
Introduction
On this episode of The Entrepreneur Ethos, host Jarie Bolander interviews Chris Troka, an entrepreneur who believes that the idea of AI causing the end of the world is not accurate. Chris compares AI to previous technological advancements like personal computers and the internet, seeing it as a tool that can increase productivity and automate mundane tasks. He believes that AI can be used for research and understanding problem spaces, and overall, thinks that AI will help accelerate strategic and thoughtful work.

In the conversation, Chris acknowledges the tension between sales and marketing, noting that many businesses do not understand the value of marketing and tend to cut it during a downturn. He highlights the importance of effective marketing in driving business success, even if the product itself may not be exceptional. Chris emphasizes that sales and marketing need to be aligned for success, and he expresses fascination in the challenge of understanding the workings of marketing.

The episode also explores the use of AI tools like chat and GPT, which can provide a foundation for creative work and save time on tasks like creating blog posts or articles. Chris highlights the importance of increasing speed to lead and providing solutions to problems in order to retain customers. He suggests quantifying the time and money saved by implementing a more efficient process and emphasizes the goal of automation and AI being to make the workforce more efficient rather than replace it.

Chris shares his own entrepreneurial journey, from running a successful DJ service to pivoting and focusing on marketing during the COVID-19 pandemic. He collaborated with developers to create a business app that utilizes AI and automation, and has brought automation principles to other businesses by leveraging tools and technology.

The episode also delves into the details of Chris's new all-in-one system called Pivot, which has evolved from a six-in-one tool to a 14-in-one tool. It consolidates features from multiple services and includes a native calendar booking app, an AI chatbot for customer and lead interactions, CRM, and advanced automation workflow features. Chris explains how he has been using Pivot to run his DJ business, automate tasks, and improve workflow and processes.

Throughout the conversation, Chris shares insights on utilizing technology and tools to save time, streamline processes, and achieve business growth. He believes that the key to success with AI is harnessing it to enhance creativity, as AI is like a smart intern that needs to be directed correctly. Chris doesn't see AI as the end of humanity or knowledge workers, emphasizing that humans still need to drive the tool and provide direction. He highlights that AI only knows and understands things through human interaction.

Don't miss this episode of The Entrepreneur Ethos as Chris Troka shares his thoughts on AI, marketing, automation, and his entrepreneurial journey, providing valuable insights for entrepreneurs looking to leverage technology and tools for business success.
Timestamps
00:01:03 15 years of work in different industries, didn't enjoy 9-5 lifestyle, started DJ business, now helping others start businesses.
00:04:43 DJ pivots business, automates with AI.
00:08:48 14-in-1 tool consolidates various business services
00:13:21 Databox CEO emphasizes the importance of automation.
00:15:05 Pivot, development team, software success, time-saving automation.
00:17:49 Sales and marketing clash but are vital.
00:21:30 Demonstrate time and cost savings with automation.
00:26:51 AI-powered chatbot saves time, captures leads.
00:29:19 Chat GPT is scary but cool, like the wild west. It helps refine messaging and improve communication.
00:33:16 Customers tell you what they want.
00:36:39 Grateful for position, helping entrepreneurs, maximizing ROI.
00:37:59 Learn, share, join, read, follow, improve.
Key Topics
- Understanding the Potential of AI
- AI as a tool for productivity and automation
- Comparing AI to previous technological advancements
- Using AI for research and problem-solving
- AI accelerating strategic and thoughtful work
- The Importance of Sales and Marketing Alignment
- Long Standing tension between sales and marketing
- Businesses not valuing marketing during downturns
- Performance marketing challenges and decreased ad spend
- Effective marketing driving business success
- Aligning sales and marketing for success
- Fascination with understanding marketing mechanics
- Leveraging AI for Creative Work
- AI tools for saving time on tasks like content creation
- Refining messaging and communication with AI
- Freeing up time for enjoyable activities
- Debates and Adaptation with AI
- Debate on AI making us smarter or lazier
- Adaptation and acceptance of AI
- Questions about the future of automation
- AI-Powered Chat Bot and Lead Generation
- Application of AI-powered chat bots for tech support
- Using AI for lead capture and nurturing on websites
- Importance of quick and effective website information
- Increasing speed to lead and providing solutions
- Finding pain points and showcasing ROI
- AI and Automation for Workforce Efficiency
- AI's goal to make employees more efficient, not replace them
- Keeping employees on the payroll while improving work
Links
Keep In Touch
Book or Blog or Twitter or LinkedIn or Get Story-Driven