Brett Cooper and Evans Kerrigan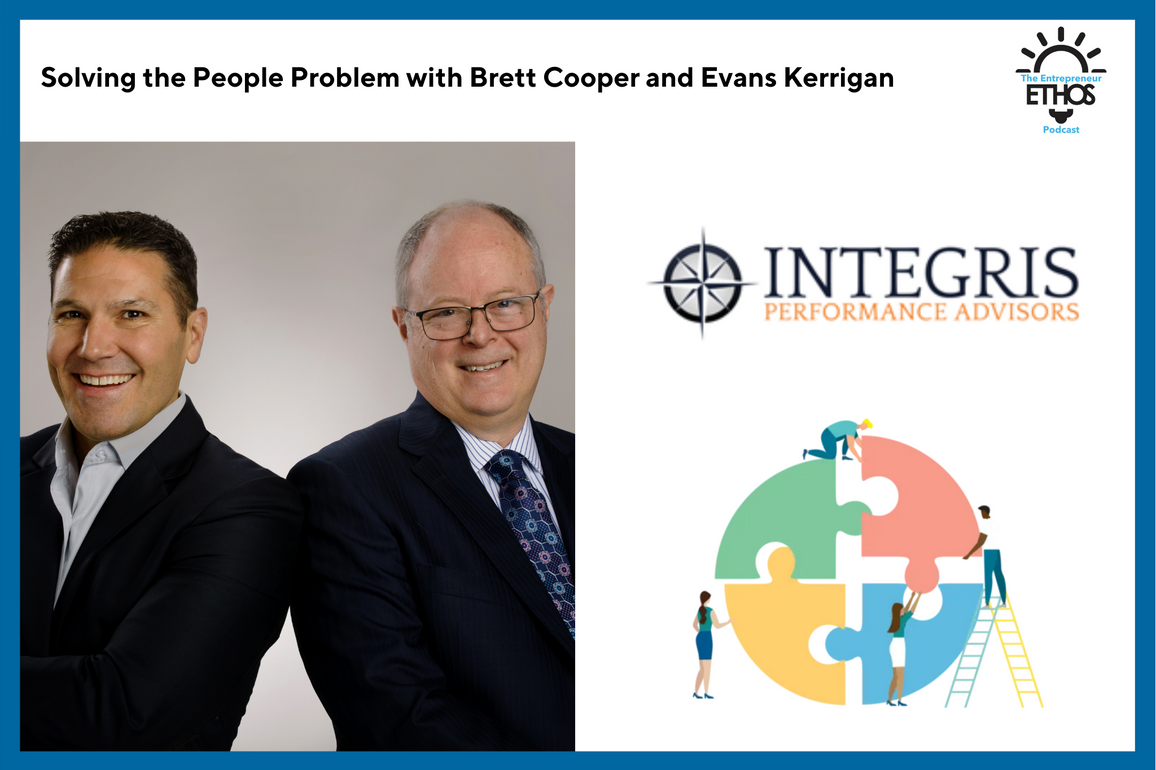 Solving People Problems with Brett Cooper and Evans Kerrigan from Integris
Subscribe: Apple Podcasts | Spotify | Stitcher | Overcast
Support the Show. Get the NEW AudioBook!
AudioBook: Audible| Kobo| Authors Direct | Google Play | Apple
Summary
Hey everyone. Stay tuned to the end of the interview where I'll give you some actionable insights that I learned from my guest. These insights are also in the show notes. As always, thanks for listening.
Now on to my guests today, Brett Cooper and Evans Kerrigan, cofounders of Integris Performance Advisors.
Brett and Evans met through their work as process improvement specialists. They came to realize that improving a company's productivity ultimately comes down to also addressing the issues that come up in working with people. When the company they worked with wasn't interested in going that route, they struck out on their own, forming Integris and learning all they could about how to help make more effective leaders and how to teach people to work better together.
Their ideas are broken down in their recent book, Solving the People Problem: Essential Skills You Need To Lead and Succeed in Today's Workplace. They've also developed an app so employers can assess their own strengths and weaknesses, learn some new practices, and also see the various styles of their employees in order to understand better how to connect with and relate to them.
The foundation of Brett's and Evans' philosophy is based on an understanding of emotional intelligence and how to better work alongside people with different styles. We all have our own styles of working, dictated by how we get energy, what stresses us out, and, especially, how we communicate. The more we can learn and understand not only how we tick, but how the others around us tick, the better off we'll be.
We'll be more productive and foster more understanding. We'll also appreciate what other people can bring and find people to work with that complement our skills. Ultimately, finding the right people to work with is often finding someone with common values, as  Brett and Evans note in the podcast.
Now let's get better together.
Actionable Insights
Understanding your EQ - your emotional intelligence quotient - and making a point of improving on your interpersonal skills can be two of the important things a leader or entrepreneur can do. You can get started by taking the DISC-EQ assessment at Solving the People Problem. Use the code ETHOS to take it for free.
One of the most common reasons startups fail is because of a breakdown in relationships.  Make a point of learning about others' differences and appreciating what they can bring to the table.
A strong leader is someone who is willing to be vulnerable and acknowledge the mistakes you make - and then learn from them.
Links to Explore Further
Keep In Touch
Book or Blog or Twitter or LinkedIn or JSYPR or Story Funnel