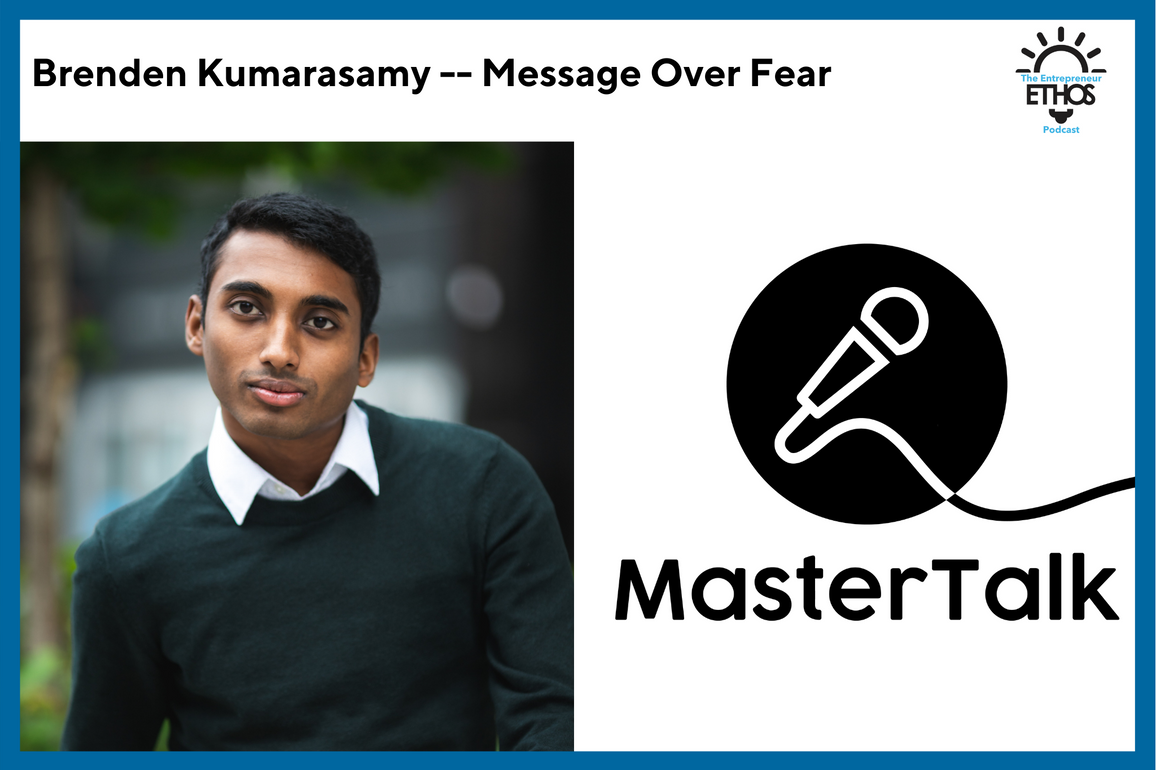 Message Over Fear: Brenden Kumarasamy's MasterTalk Videos Help Anyone Become Better Communicators
Subscribe: Apple Podcasts | Spotify | Stitcher | Overcast
Support the Show. Get the NEW AudioBook!
AudioBook: Audible| Kobo| Authors Direct | Google Play | Apple
Summary
Hey everyone. I wanted to jump in quickly let you know about the release of the audio version of my book, The Entrepreneur Ethos, narrated by David A. Conatser. If you want to support the show, you can buy it wherever audiobooks are sold. Links are also in the show notes. You can also support the show by leaving a rating and a review on Apple Podcasts or Spotify. Thanks to everyone who has left a review. I really appreciate it.
Now on to my guest for today, Brenden from MasterTalk.
Brenden has caught the attention of corporate executives through his YouTube videos, where he teaches public speaking skills on his MasterTalk channel. Billing himself "the youngest public speaking coach in the world," Brenden coaches managers who want to move up the ranks by teaching them how to improve their communication skills. Brenden honed his skills as a public speaker in college, where he participated in competitions and coached other students. Wanting to find a way to give back, he started recording videos in his mother's basement to help people become more confident speakers.
I asked Brenden why so many people fear public speaking. Find out why he believes schools are primarily to blame for so many growing up with a lot of anxieties around giving presentations, which often connects to the poor communication skills. Being able to quickly tell the story of your business can be one of the most important skills to learn. Brenden shares some of the insights he's learned about teaching others to do presentations and tell their stories.
Now let's get better together.
Actions to Try or Advice to Take
Here are some tips from Brenden about how to make stellar presentations:
Start with the corners, as you would a jigsaw puzzle. Good beginnings and endings are key, and these are the parts people often don't pay much attention to because they're too caught up in the content they're delivering.
Practice your introductions and endings. Kumarasamy recommends practicing both at least 50 times. He also suggests having one presentation that you do 100 times, so you get really good at it.
Always have a one-sentence pitch ready so you can talk about your business or your story to anyone you meet.
Links to Explore Further
Keep In Touch