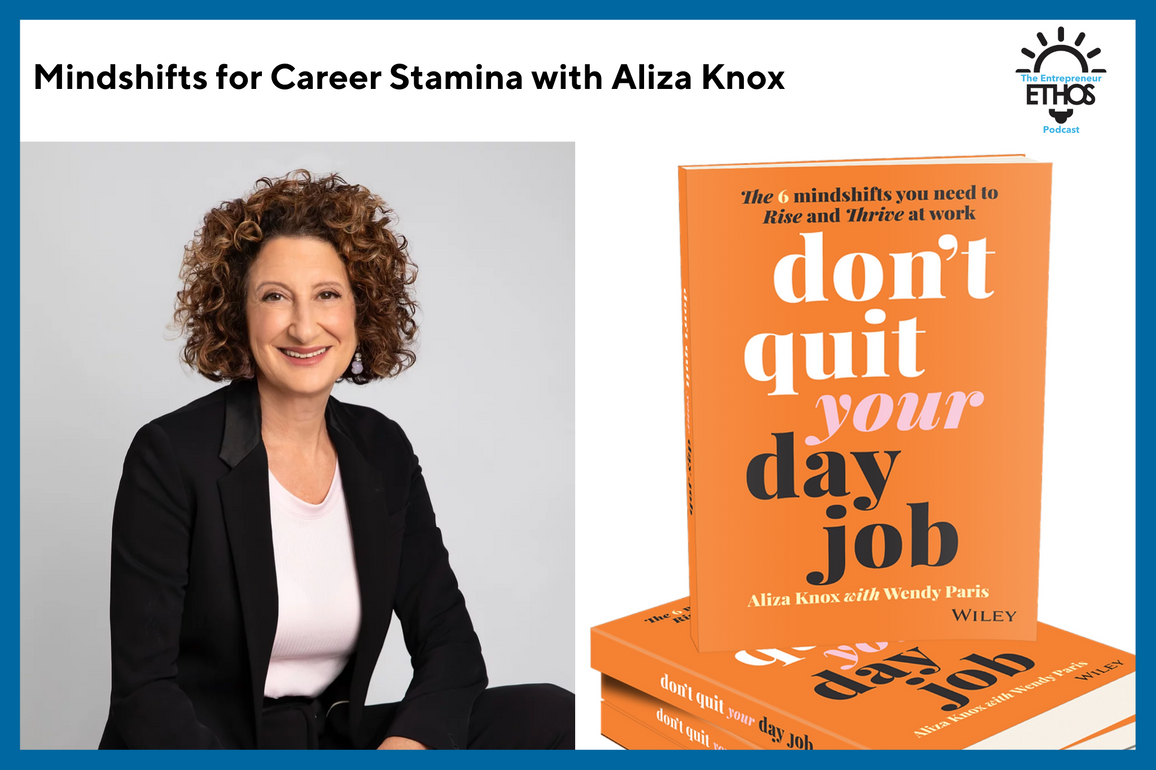 Mindshifts for Career Stamina with Aliza Knox, author of Don't Quit Your Day Job.
Subscribe: Apple Podcasts | Spotify | Stitcher | Overcast
Support the Show. Get the AudioBook!
AudioBook: Audible| Kobo| Authors Direct | Google Play | Apple
Summary
Hey everyone. Stay tuned to the end of the interview where I'll give you some actionable insights that I learned from my guest. These insights are also in the show notes. As always, thanks for listening.

Now on to my guest for today, Aliza Knox, a "non-executive" director, former executive at financial services and tech companies, and author of Don't Quit Your Day Job: The 6 Mindshifts You Need to Rise and Thrive at Work.
Aliza characterizes herself as "an American with a sense of adventure." She's lived in Australia and now makes her home in Singapore. Aliza explains that she's gone through three stages, which she likens to software upgrades: 1.0 was her work at financial services companies like Charles Schwab and Visa; 2.0 was as an executive in sales and operations at Google, Twitter and Cloudflare, and 3.0, where she is currently, is taking all she learned and helping others while spending time doing things she loves.
Aliza wrote Don't Quit Your Day Job after experiences mentoring others. People regularly seek her out for advice on their professional lives. She's distilled some of her  wisdom and insight into the book, organized around six mindshifts. Using stories from the people she's helped, she illustrates ways ambitious professionals can shift their perspectives in order to get to where they want to go.
Now, let's get better together.
Actionable Insights
Aliza recommends that entrepreneurs as well as professionals looking to climb the ladder assemble a team of advisors, your own personal board of directors. Friends and family provide moral support, but your advisors can better provide perspective and advice that will genuinely help you move forward.
Aliza believes a diversity of perspectives is important for boards in business. Diversity in external characteristics is a "proxy" for this.
Aliza shares her "equation" for success: Stamina = Perseverance + Enthusiasm.
Grit can only carry so far. Finding passion for what you're doing will keep you going.
Links to Explore Further
Keep In Touch